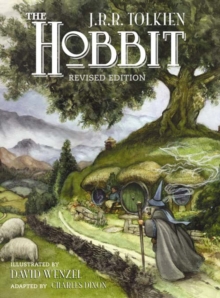 The Hobbit Graphic Novel
Paperback
Description
A brand new revised edition of the best-selling graphic novel based on the enchanting prelude to The Lord of the Rings.
First published in 1990, David Wenzel's comic book adaptation of J.R.R.
Tolkien's The Hobbit was an immediate success and has become one of the best-loved graphic novels of the last 20 years.
The Hobbit is the story of Bilbo Baggins, a quiet and contented hobbit whose life is turned upside down when he joins the wizard Gandalf and thirteen dwarves on their quest to reclaim their stolen treasure.
It is a journey fraught with danger - and in the end it is Bilbo alone who must face the guardian of this treasure, the most-dreaded dragon, Smaug.
Illustrated and hand painted in full colour throughout, and accompanied by the carefully abridged text of the original novel, this handsome authorised edition will introduce new generations to a magical masterpiece - and be treasured by Hobbit fans of all ages, everywhere.
This new edition has been completely re-scanned from the original paintings to achieve more accurate and vibrant colours, with David Wenzel revisiting the work to provide sensitive improvements and additions to the original edition. The book includes a magnificent and completely new cover design by Wenzel himself.
Information
Format: Paperback
Pages: 144 pages
Publisher: HarperCollins Publishers
Publication Date: 11/07/1991
Category: Lliterary & memoirs
ISBN: 9780261102668
Free Home Delivery
on all orders
Pick up orders
from local bookshops
Reviews
Showing 1 - 5 of 20 reviews.
Previous | Next
Review by jayne_charles
16/06/2015
The adventures of Bilbo Baggins and how he came by the Ring - chiefly a story for children, and not particularly my sort of thing, though it was an interesting 'prequel'. Lots of dastardly enemies, some spiders (of course), and a bit of dragon diplomacy.
Review by StOl0620
16/06/2015
This was a book I had been wanting to read for a long time and it impressed me. The book was mature but it was action packed. I wouldn't call a fun read but an interesting one.
Review by zhall001
16/06/2015
During the first chapter of J.R.R Tolkien's novel The Hobbit, a description of the typical hobbit is given. In this particular passage, Tolkien describes Hobbits with a peaceful tone. The imagery used by Tolkien paint vivid pictures of peace and serenity. Tolkien writes "[Hobbits] dress in bright colors…have good-natured faces, and laugh deep fruity laughs" (16). The words in this sentence that add to the tone are bright, laugh, and good-natured. These words all have a positive undertone that connotes a sense of harmony within the passage. This proves to be important because it mirrors the attitude of hobbits and gives the reader a better understanding of there lifestyle. Furthermore, the tone of the passage adds to the symbolism of hobbits. Hobbits, in J.R.R Tolkien's novel, represent a simplistic lifestyle. Many words within the passage give the impression that hobbits are not complex, much in contrast to the "big people" they are compared to. Words such as naturally, leathery, and fruity all suggest hobbits live a life of nature rather than one of complication and intricacy. Tolkien obviously chose these words over others in order to demonstrate the parallel between Hobbit life and an easy lifestyle. For instance, all the words could have easily been omitted and the same information would still have made it to the reader, but the diction would seem far more modernized and weakened the correlation between hobbits and their lifestyles.In this passage, Tolkien juxtaposes complexity and simplicity. This leads to his theme that a simple life is far better than a life of complexity. Tolkien does this by comparing simple folk, hobbits, to the more advanced members of society, me and you. His language when describing the typical person all carry negative connotations demonstrating the inferiority of there lifestyle. Tokien utilizes words such as big, stupid, blundering, and noise like elephants to demonstrate a human's carelessness. In complete contrast to this words that describe hobbits suggest wariness and vigilance. Shy, little, disappear, and quickly are just a few of the words demonstrating this. Tolkien uses these contrasting phrases to discreetly display his opinions on technological advancements and human lifestyle. The tone directly relates to this theme through Tolkien's diction. By showing hobbits peaceful lifestyle in a positive light, the tone itself, which supports peace, is shaped to a more bright form. This leads the reader to believe, that while a hobbits life is relatively ordinary, it is still an amazing lifestyle to have. This is Tolkien's ultimate purpose of the passage, to demonstrate that a simple life is a good one.
Review by champak256
16/06/2015
This is an amazing book by an amazing author. I love the way he has built up the whole world of Middle-Earth. It has lots of action, believable characters, and very possible conflicts.
Review by weeksie50
16/06/2015
The adventure begins when Gandalf, the wizard, tricks Bilbo Baggins into helping a band of dwarfs steal their treasure back from the dragon Smaug. In this quest, Bilbo and his companions battle against goblins, dragons, and evil wolves. Deep within a mountain, he finds a mysterious ring with magical powers.