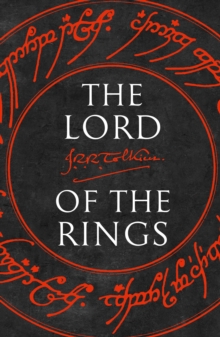 The Lord of the Rings
Paperback
Description
Continuing the story begun in The Hobbit, all three parts of the epic masterpiece, The Lord of the Rings, in one paperback.
Features the definitive edition of the text, fold-out flaps with the original two-colour maps, and a revised and expanded index.
Sauron, the Dark Lord, has gathered to him all the Rings of Power - the means by which he intends to rule Middle-earth.
All he lacks in his plans for dominion is the One Ring - the ring that rules them all - which has fallen into the hands of the hobbit, Bilbo Baggins.
In a sleepy village in the Shire, young Frodo Baggins finds himself faced with an immense task, as the Ring is entrusted to his care.
He must leave his home and make a perilous journey across the realms of Middle-earth to the Crack of Doom, deep inside the territories of the Dark Lord.
There he must destroy the Ring forever and foil the Dark Lord in his evil purpose.
Since it was first published in 1954, The Lord of the Rings has been a book people have treasured.
Steeped in unrivalled magic and otherworldliness, its sweeping fantasy has touched the hearts of young and old alike. This single-volume paperback edition is the definitive text, fully restored with almost 400 corrections - with the full co-operation of Christopher Tolkien - and features a striking new cover.
Information
Format: Paperback
Pages: 1216 pages, 2 b/w illus, (1 x b/w map; 2 x red & black maps), Index
Publisher: HarperCollins Publishers
Publication Date: 05/06/1995
Category: Fantasy
ISBN: 9780261103252
Other Formats
Multiple-item retail product, slip-cased from £22.79
Paperback from £7.69
Hardback from £15.79
EPUB from £5.49
CD-Audio from £20.05
Multiple-item retail product from £17.89
Free Home Delivery
on all orders
Pick up orders
from local bookshops
Reviews
Showing 1 - 5 of 5 reviews.
Review by cathepsut
16/06/2015
"The Fellowship Of The Ring": I actually only wanted to read that one and then stop, to keep pace with the movies. But I could not wait another two Christmas seasons to finish the book…. Very good. Everybody told me that the first 100 pages drag a bit, but I didn't think that at all, I really liked it. I actually thought it was a bit tedious more towards the end, all this to-ing and fro-ing up the mountains, down the mountains, under the mountains, eastwards and southwards and whatever... But generally very good, I think the movie caught the feel of the book very well. Obviously, while reading, I have the movie playing in the back of my mind. I wonder how I would have perceived the book without having seen the film beforehand. All this poetry and everybody bursting into song is not really my cup of tea, but then I have never been one for poetry…. But all in all much more readable than I thought it would be."The Two Towers". I think I liked "Fellowship…" better, not sure yet, why. The heroes spend a lot of time eating and sleeping. Or talking about eating and sleeping. Or looking for places to sleep or eat in. Coincidence? Perhaps Tolkien was a foody, who liked to sleep a lot? It has something reassuring and makes me really comfy, to read about food and sleep all the time. Granted, mostly they talk about those things, because they don't have enough of either…"The Return Of The King". I was quite surprised about "the scouring of the Shire" in the end. I did not expect that at all. I kept wondering what it was all about, as the book had had it's ending….. Was an interesting turn of events though. I thought that Aragorn and quite a few of the other characters were a bit one-dimensional in the last two books. Except for the hobbits they all were a bit colourless. I really liked the storyline of Frodo and Sam, though.
Review by soylentgreen23
16/06/2015
I first started to think I should read The Lord of The Rings when I came across a book by Peter Ackroyd called 'Albion: The English Imagination.' Ackroyd referred often to Tolkien's work, but placed it rightfully amongst the early classics of English literature. Surely this work is more closely related to the tale of Beowulf and Grendel than it is to most other tales told in the 1950s.It took me only nine days to read the whole of the trilogy; I admit, I was swept away, finding Tolkien's prose to be far more accessible than I had even hoped. I was aided by the film series, of course, which helped me to visualise the settings more clearly, but I now admire Tolkien's creation for what it is as much as how it is beheld by others.
Review by EmreSevinc
16/06/2015
The sheer literary pleasure of this masterpiece is something I'll miss for a long time. I don't think I can add much to one of the most reviewed book of all times but I will always keep in mind what Ursula K. LeGuin wrote about it in her "Rhythmic Patterning in The Lord of the Rings" article, that "It's a wonderful book to read aloud or (consensus by the children) listen to." and that "... it wants the living voice to speak it, to find its full beauty and power, its subtle music, its rhythmic vitality."After the end of this literary journey, I have a strong feeling, an inner sound that tells me I have yet to face many events that will be tied to LOTR in some way. This may well be the echoes of my past reading, and sometimes reading aloud; but even if that feeling is illusory, and the sound is void, I have to thank to Tolkien for having created such a repercussive narration. If "art is a lie that makes us realize truth" as Picasso said, then LOTR opens the gate to many beautiful truths.
Review by albertkep
16/06/2015
The perfect adventure book.
Review by dbsovereign
02/03/2016
A journey like no other with some [rather] wooden characters, but which never fails to charm because it's such a great, long, complex, heroic tale of love and obssession and of the evil which resides within even the "best" of us. The journey burns all the way through Frodo Baggins, tearing him to smithereens and then he sails away.