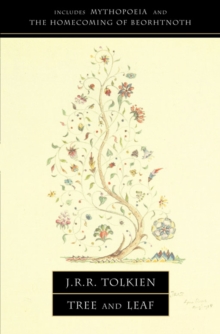 Tree and Leaf: Including Mythopoeia
Paperback
Description
Repackaged to feature Tolkien's own painting of the Tree of Amalion, this collection includes his famous essay, 'On Fairy-stories' and the story that exemplifies this, 'Leaf by Niggle', together with the poem 'Mythopoeia' and the verse drama, 'The Homecoming of Beorhtnoth', which tells of the events following the disastrous Battle of Maldon.
Fairy-stories are not just for children, as anyone who has read Tolkien will know.
In his essay On Fairy-Stories, Tolkien discusses the nature of fairy-tales and fantasy and rescues the genre from those who would relegate it to juvenilia.
The haunting short story, Leaf by Niggle, recounts the story of the artist, Niggle, who has 'a long journey to make' and is seen as an allegory of Tolkien's life.
The poem Mythopoeia relates an argument between two unforgettable characters as they discuss the making of myths.
Lastly, and published for the very first time, we are treated to the translation of Tolkien's account of the Battle of Maldon, known as The Homecoming of Beorhtnoth.
Tree and Leaf is an eclectic, amusing, provocative and entertaining collection of works which reveals the diversity of J.R.R. Tolkien's imagination, the depth of his knowledge of English history, and the breadth of his talent as a creator of fantastic fiction.
Information
Format: Paperback
Pages: 176 pages
Publisher: HarperCollins Publishers
Publication Date: 18/01/2001
Category: Literary essays
ISBN: 9780007105045
Free Home Delivery
on all orders
Pick up orders
from local bookshops
Reviews
Showing 1 - 1 of 1 reviews.
Review by shanaqui
16/06/2015
I've actually read everything except 'Mythopoeia' from this volume before: I needed it to do references to 'The Homecoming of Beorhtnoth'. 'Homecoming' is an interesting commentary on 'The Battle of Maldon'. I daren't comment more without plagiarising my essay, but it's definitely worth reading, and it's interesting to see so clearly how strongly his academic and creative work were bound together. 'Homecoming' is part-essay, part-drama, part-poetry.<br/><br/>'Mythopoeia' is lovely, too. 'Leaf by Niggle' is nice, but more allegorical than you might expect from the man who professed to hate allegory. And 'On Fairy-Stories' is important in understanding all his work, I'd say.