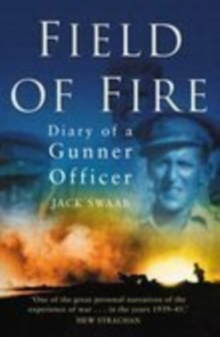 Field of Fire : Diary of a Gunner Officer
Paperback
Description
Jack Swaab joined the veteran 51st (Highland) Infantry Division on 3 January 1943.
He kept a series of diaries over the following two and a half years, recording the combination of boredom and fear that characterises active service.
In mid-March 1943 he saw battle for the first time as Montgomery attacked the Mareth Line.
In July that year Swaab took part in the Allied landings on Sicily, writing of the scorching humidity of the Sicilian summer.
In May 1944 he records the restless time as his regiment prepared for the invasion of Normandy.
In September 1944 Swaab's role changed dramatically, as he moved from commanding a troop to being a forward observation officer.
His new position meant that he was working closely with the infantry in the front line.
Swaab's first five months as a forward observation officer came to an abrupt end on 13 February, when he was wounded in the leg by shellfire.
He was again selected for FOO duty during Operation 'Varsity', the Rhine crossing, in March 1945, and received the Military Cross.
Information
Format: Paperback
Pages: 288 pages, Illustrations, maps, ports.
Publisher: The History Press Ltd
Publication Date: 17/11/2005
Category: True war & combat stories
ISBN: 9780750942751
Free Home Delivery
on all orders
Pick up orders
from local bookshops
Reviews
Showing 1 - 1 of 1 reviews.
Review by JonSowden
16/06/2015
This barely edited publication of the authors wartime diaries offers a very good view of the kinds of day-to-day, hum-drum things that keep soldiers going and gets their attention. At times Swaab seems vaguely aware of the enormity of the events in which he is involved, but generally he seems more concerned about how many cigarettes he has, what brand they are, how much mail has arrived, fleas, issue of alcohol rations, and petty office politics within his battery. In that regard he is much like Colonel Cathcart in "Catch-22", ever alert for Black Eyes and Feathers In His Cap. I was hoping that more information about details of the author's job would come through, a'la George Blackburn in "The Guns of War." Things like details on the mechanics of artillery fire and control from a man who did it in action for the better part of 2 years, but somewhat-unfortunately Swaab stuck mainly to the details of his life when writing his diaries. There is an interesting passage in the days immediately before 6th June 1944, with his unit tucked up in a pre-embarkation compound in London. The glorious weather gives way to storms and high winds - an event the significance of which Swaab could have no idea, but in retrospect provides a fascinating real-life perspective on Group Captain Stagg's concurrent intellectual trial. During the section on Swaab's experiences in Tunisia and Sicily I had the somewhat surreal experience of finding myself reading this book and Spike Milligans memoirs of Tunisia and Salerno at the same time. The contrast between Milligan's lunacy and hilarity and Swaab's matter of fact recitation of each days ups and downs is amusing in it's own right. Unfortunately some of the diary has either been lost or omitted. Certainly the first diary has been lost to history, so the authors experiences from enlistment up till just before he joins a regiment on operations is only occasionally hinted at in relation to other events. But there are also gaps between the end of the Tunisian campaign and the start of the Sicilian, and between when the regiment arrives back in England in late 1943 and a few days before D-Day. Personally, I would have been interested in the amount and kinds of training that he carried out in the build-up to OVERLORD. The reason for this gap isn't stated - it could well be that he simply didn't keep his diary during this period. Overall the diaries present a rather unflattering glimpse of a junior officer in the second half of World War II, and details of the life he led. Nevertheless, if you take a reasonable background knowledge of the events in which Swaab was involved, you should find this a rewarding read.
Also by Jack Swaab