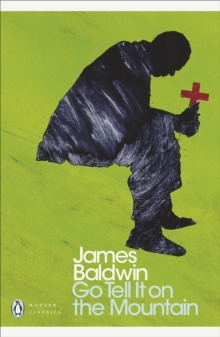 Go Tell it on the Mountain
Paperback
Description
"Nothing but the darkness, and all around them destruction, and before them nothing but the fire--a bastard people, far from God, singing and crying in the wilderness!" First published in 1953, Baldwin's first novel is a short but intense, semi-autobiographical exploration of the troubled life of the Grimes family in Harlem during the Depression.
Information
Format: Paperback
Pages: 272 pages
Publisher: Penguin Books Ltd
Publication Date: 04/10/2001
ISBN: 9780141185910
Free Home Delivery
on all orders
Pick up orders
from local bookshops
Reviews
Showing 1 - 5 of 8 reviews.
Previous | Next
Review by Clurb
16/06/2015
John is the young son of a black preacher fighting for the love of his family, his church and his god in turbulent downtown Harlem. Whilst John as a character was very engaging I lost interest in the story about half way through because of the writing style.
Review by roblong
16/06/2015
Very intense, and a fascinating insight into a way of life and a point in time. The novel introduces John, a 14-year-old boy supposedly destined to be a preacher, like his father – a man he fears and hates. John's father Gabriel is a fire and brimstone preacher who beats his sons and spreads terror everywhere he goes. Gabriel's previous life, and that of his wife and his sister, are told in flashbacks that show how the family have got to this point. The book is set in 1935, and the older generation are all escapees of the South, born to parents who had lived in slavery. The first section in particular I thought was amazing, it really grabbed me from page 1, and barely let up until the end.
Review by mjennings26
16/06/2015
One of my very favorite books.
Review by julierh
16/06/2015
this book is so good. it's one of those you'll want to devote a close reading to, with pencil in hand to make note of its thought-provoking symbolism. it's full of insight, conflict, introspection, wisdom, and feeling. don't miss this harlem-renaissance inspired classic of american literature.
Review by stillatim
16/06/2015
All this time I thought it was called 'Go Tell it *to* the Mountain.' Well, the mountain gets told from a great height I guess. Great structure, great writing, great insight. A few reviewers complain that the ending is too 'simplistic,' which I take it means 'main character doesn't become an atheist.' Indeed he doesn't, but to describe anything about this book as simplistic or disappointing, as if being slightly different means you have to break out of your entire community and history, is itself bizarrely simplistic. This book is great, and the ending deserves to be read closely and thought through, not complained about.