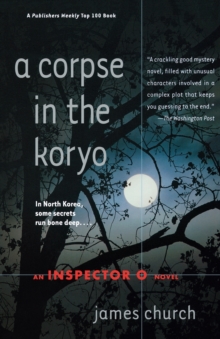 A Corpse in the Koryo
Paperback
Description
Sit on a quiet hillside at dawn among the wildflowers; take a picture of a car coming up a deserted highway from the south.
Simple orders for Inspector O, until he realizes they have led him far, far off his department's turf and into a maelstrom of betrayal and death.
North Korea's leaders are desperate to hunt down and eliminate anyone who knows too much about a series of decades-old kidnappings and murders - and Inspector O discovers too late he has been sent into the chaos.
This is a world where nothing works as it should, where the crimes of the past haunt the present, and where even the shadows are real.
A corpse in Pyongyang's main hotel - the Koryo - pulls Inspector O into a confrontation of bad choices between the devils he knows and those he doesn't want to meet.
A blue button on the floor of a hotel closet, an ice blue Finnish lake, and desperate efforts by the North Korean leadership set Inspector O on a journey to the edge of a reality he almost can't survive.
Information
Format: Paperback
Pages: 288 pages, black & white illustrations
Publisher: Minotaur Books,US
Publication Date: 24/09/2007
Category: Crime & mystery
ISBN: 9780312374310
Free Home Delivery
on all orders
Pick up orders
from local bookshops
Reviews
Showing 1 - 4 of 4 reviews.
Review by BarbN
16/06/2015
This is a finely crafted mystery, with wonderful characterizations and an astonishing sense of place. Lyrical and spare in prose, with passages of empathy and great beauty set against a backdrop of brutality. Inspector O is a delight, seeing the hidden grain in both wood and people, and slowly exploring both to find the true underlying forms, the strengths and weaknesses. An excellent read for a quiet place.
Review by MarthaHuntley
16/06/2015
This is a mystery where even the mystery remains a mystery. The book is long on atmosphere and local color(lessness), and short on crime. It does make the point that in those countries where law and order are tyrannically upheld, the government tends to be the one that is criminal. For setting, this book gets an A, however. It evokes the depression of life in North Korea -- where everything is scarce, if not totally unavailable, from tea to sympathy, and nothing, but nothing, works. ( Inspector O's constant quest for the elusive tea is a clue that nothing is going to get better.) The multiple layers of bureaucracy and paranoia, the stifling of thought or creativity of any kind, the claustophobia are all thick and believable. Inspector O would be a likeable character, if he wasn't so empty inside, but how could it be otherwise?
Review by FicusFan
16/06/2015
This is a mystery set in modern day North Korea. It is also the start of the <b> Inspector O</b> series. I really wanted to like it more than I did. The setting intrigues me, The writing was good, it flowed well and made as much sense as the story allowed. That was my biggest problem with the book. There were a lot of cryptic comments, a lot of aimless wandering around, and a lot of verbal fencing - talking about a car wreck and 2 murders as if they didn't happen, then ignoring them. There were power players that didn't have explanations as to why they were there and how they all connected together.I think the author did it to emulate trying to work and live under a dictatorship. And it was effective, it just detracted from the story. The corpse of the title didn't show up until about page 136. Then his murder was a minor plot point, and the killer and the truth about the murder was never really presented. It was all swallowed in politics, and conjecture.The story is of powerful heads of the Ministries of Intelligence (Kang) and Security (Kim) showing up in the office of Inspector O's boss. There is something going on, and they are involved. His boss Pak sends him on a tour of remote areas to escape the Ministry plot. Kang from Intelligence pops up and tells O what to do, the Security people have goons follow O. It seems the Security people really want Kang, the Intelligence guy. It is never explained why O and his boss Pak are drawn in. Or what he is doing on his tour. There is a good bit of detail about his past, his current life and the difficulty of life under the dictatorship. Even the smallest item is considered anti-social if it is different. They have little pay, and few of even the basic essentials to do their job. The cameras may not have batteries, let alone those that work. Their official police cars may not have fuel. The camera incident comes to light because O is sent to a hillside before dawn to take a picture of a car that is expected to pass by. He is to take a picture of the license plate of the car, for someone higher up who wants to use it for blackmail. That is the life of a police officer there, not just keeping the peace, or enforcing the laws, but meeting the needs of those with more power, regardless of what they want.The story is very disjointed and never really explained. At the end O comes up with an explanation but it seems not to really come from the story, just something that is used to end the book. It could have just as easily been a different story and it would have seemed as plausible.Interspersed with the story of O is a section where O is telling the events to a stranger. An Irish agent who is asking questions about the events and recording everything. There is no explanation of why or where they are (until the end) or what the agent wants. Even the retelling makes no real connections.I have the 2nd book in the series and will read it. I usually give a new series 3 books to sort itself out. I hope this one does because it just seems to have the potential to be both good and interesting.
Review by catarina1
16/06/2015
As a reader of books set in Asia, as a fan of mysteries, I wanted to like this book. But find I can't say anything good about it. There's a lot of talking, a lot of traveling around, "clues" being dropped, but without much point. It all comes to naught. I picked this book up because of mentions elsewhere on LT and only read the "praise" on the back cover after I finished the book. That's when I saw a comment from that illustrious and accomplished writer Newt Gingrich - "This novel is a must-read for anyone who would understand how precarious the dictatorship is." All I can say to that is - Hogwash!!My recommendation - don't bother. Life is too short.
Also by James Church