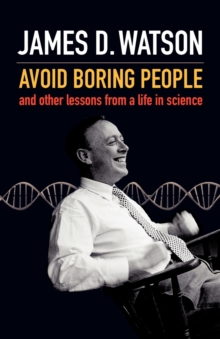 Avoid Boring People : And Other Lessons from a Life in Science
Paperback
Description
James D. Watson looks back on his extraordinary and varied career - from its beginnings as a schoolboy in Chicago's South Side to the day he left Harvard almost 50 years later, world-renowned as the co-discoverer of DNA - and considers the lessons he has learnt along the way.
The result is both an engagingly eccentric memoir and an insightful compendium of lessons in life for aspiring scientists.
Watson's 'manners' range from those he learnt bird-watching with his father during the Great Depression ('Avoid fighting bigger boys and dogs' and 'Find a young hero to emulate') to the manners appropriate for a Nobel Prize ('Have friends close to those who rule').
He evokes his time as a graduate student in the 1940s ('Hire spunky lab helpers'); the excitement of working in DNA for the first time as well as having his first dates; his time working as a White House advisor; and at Harvard in the '70s.
Avoid Boring People is a quirky, original, wise, and infuriatingly un-put-downable blend of candid anecdotes and revealing insights into the life of one of the greatest scientists of the 20th century.
Information
Format: Paperback
Pages: 362 pages, 40 b&w halftones
Publisher: Oxford University Press
Publication Date: 23/01/2008
Category: Autobiography: general
ISBN: 9780199548187
Free Home Delivery
on all orders
Pick up orders
from local bookshops
Reviews
Showing 1 - 1 of 1 reviews.
Review by Kuiperdolin
16/06/2015
Words fail me to transcribe the extent to which Watson, even through a largely self-apologetic book, manages to come across as an especially loathsome individual ; suffice to say there can be no doubt why he is despised and hated by just about evrybody who crossed his path. His pointing out gratuitously, for example, the undisclosed bulimia of a former acquaintancee's wife is not even the crassest example of the foulness dripping from some pages.An unpalatable author, of course, even if he doubles as narrator, is no guarantee of a bad book ; Avoid boring people is at times interesting and evocative of the world of post-WW2 science, radically different from modern research. I found especially remarkable the permeability then prevalent between different scientific domains and the dingy conditions of 50s laboratories, although I could not get rid of the suspicion Watson overstates both phenomenon. The writing is competent if unremarkable, but wavers between overdetailed explanations of basic concepts and long-winded strings of Big Words. Given that, as a chemist (not a very good one, but only makes my point more valid), I struggled to understand what several technical paragraphs were about make their inclusion in a book marketed for the layman questionable. The "dramatis personae" appendix would have been much more useful as an index.Overall the book is not that bad, especially as a reference rather than a story. In fact, it is not 'even' bad. It is just a mediocre work with unpleasant undertones.