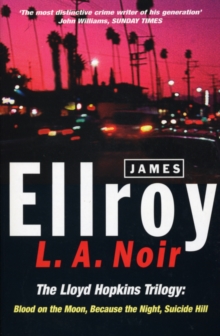 L.A. Noir : The Lloyd Hopkins Trilogy: Blood on the Moon, Because the Night, Suicide Hill
Paperback
Description
Three of Ellroy's most compelling novels featuring Detective Sergeant Lloyd Hopkins in one volume.
Blood On The Moon: 20 random killings of women are unconnected in police files.
But Det. Sgt. Lloyd Hopkins sees a pattern. As he is drawn to the murderer, the two men face a confrontation pitting icy intelligence against white-heated madness. . . Because The Night: Jacob Herzog, hero cop, has disappeared.
A multiple murder committed with a pre-Civil War revolver remains unsolved.
Are the two cases connected? As Det. Sgt. Lloyd Hopkins pieces the puzzle together he discovers the darker threat of John Haviland, a psychiatrist whose pleasure comes from the manipulation of the weak and lonely.
Suicide Hill: Duane Rice leaves jail with good news and bad news: two adulterous bank managers are ripe for squeezing, but Vandy, who he is obsessed with making a rock star, has disappeared.
An orgy of violence erupts as Duane's partner goes beserk and Duane settles scores with knife and bullet.
Leading the manhunt Sgt. Lloyd Hopkins stumbles on a horrifying conspiracy of corruption and betrayal- among his own colleagues.
Ellroy's three great early novels are available in one volume for the first time - the books that led up to his LA Quartet.
Information
Format: Paperback
Pages: 848 pages
Publisher: Cornerstone
Publication Date: 05/02/1998
Category: Crime & mystery
ISBN: 9780099255093
Free Home Delivery
on all orders
Pick up orders
from local bookshops
Reviews
Showing 1 - 1 of 1 reviews.
Review by Quickpint
16/06/2015
A big of fan of Ellroy, I've read all but one of his books now. I like his early stuff a great deal, Clandestine and Brown's Requiem are easily amongst his best works. As a trilogy, I was a bit disappointed by this, although the first Hopkins book - Blood on the Moon - is a great standalone. It's just that Because the Night feels kind of superfluous and underdeveloped, and Suicide Hill, to my mind, shows the author reaching beyond but not quite making it. It's sort of an Ellroy-in-development piece. Suicide Hill started off giving me a big Charles Williford- Miami Blues vibe, in its simple set-up of soiled cop protagonist versus young criminal fresh out of prison. The Gaffaney angle an added extra, but he's not as developed as an out and out villain as Dudley later would be. All in all Suicide Hill shows Ellroy exanding his universe, but it isn't yet populated by the believable and gripping characters that would inherit his subsequent novels. I was also taken by the following passage, I don't know when it became public knowledge about Ellroy's mother, but it clearly resonates in this:"Lloyd looked out at the window, knowing by the off-ramp signs exactly where he was. He strained his eyes to see Ray BEcker's Tropics, a bar he had worked as a vice officer fifteen years before. It wasn't there. The whole block had been razed. The corner was a Korean church. A thought crossed his ming. If the city became unrecognizable, and the blood eruptions became the only sign of permanence, would he go insane?"Ellroy's seminal background incident, and his haunting relationship with LA, and his vocation as a writer are outlined right there, if you're keen enough to see them.