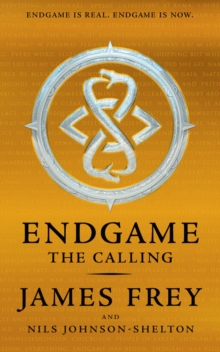 Endgame (1) - The Calling
Hardback
Part of the Endgame series
Description
THE END OF THE WORLD IS COMING. PLAY NOW. OR WE ALL LOSE. After centuries waiting in secret, twelve unbroken bloodlines, armed with hidden knowledge and lethal training, are called to take humanity's fate into their hands...The first book in a game-changing new series by bestselling author, James Frey.
Bryan High School, Omaha, Nebraska: Sarah stands at her graduation ceremony - perfect SATs, a star athlete, her life ahead of her.
Then a meteor wipes out half her school. But Sarah is not hurt and not surprised. Because she is the Player of the 233rd line - the Cahokian. And she knows what this means. Endgame is here. Juliaca, Puno, Peru: Jago walks the streets after the meteor hits.
There's looting and violence but he's not scared. He is the Player of the 21st line - the Olmec. And he's ready. Endgame is here. China, Australia, Turkey...Twelve meteors fall. Cities and people burn. The news is full of the end of the world. But Sarah, Jago and ten others are already plotting and planning for the fight.
They are the Players and Endgame is here. All but one of them will fail. But that one will save the world. We hope...Written into this book is a puzzle. Solve the puzzle, and you will find the key to open a case of gold.
Read the Books. Find the Clues. Solve the Puzzle. Who will Win? Google Niantic is building a mobile location-based augmented reality videogame inextricably tied to the books and mythology, a major prize will be tied to a puzzle in each book, and Twentieth Century Fox has bought the movie rights.
Information
Format: Hardback
Pages: 480 pages
Publisher: HarperCollins Publishers
Publication Date: 07/10/2014
Category: Fantasy
ISBN: 9780007585168
Free Home Delivery
on all orders
Pick up orders
from local bookshops
Reviews
Showing 1 - 1 of 1 reviews.
Review by naturalbri
16/06/2015
The StoryWe follow as twelve characters, chosen over 9,000 years ago, from their bloodline. Some have been eagerly awaiting this moment, some dreading the possibility. After having waited so long, surely they will not be chosen. They only have until their 20th birthday to take part. After that, they must hand-off the burden/privilege to the next in line, and so it has gone for over 9K years. Then it happens. The first sign comes, a meteor striking the earth, to signal the beginning. In the end, each player has their own invitation, brought by meteor, a meteor which has wreaked havoc on the world, destroying people, animals and nature alike. This is only the beginning.With blood and screams all around them, the players are brought to two realisations: 1) Endgame has begun2) They must not lose, or they will destroy everything they love. Who will be first to solve the puzzle and win? At what cost?What I Think about the Story and Game:I found the story to be quite a good read. It does have a few 'flaws,' as mentioned by other reviewers. Namely being that the characters are meant to be chosen, but not anything more than human. However, they take on feats that are well beyond human ability. I took this in stride though, as one has to remember we are not in a world that is exactly like ours, so 'normal' people may be able to do slightly more. Also, when one is terrified and striving to save those they love, whilst avoiding death, it is not uncommon for humans to do things believed impossible. I like the extreme, addicting pace of this book. It really is a read that is hard to put down. The action starts from page one and doesn't cease, leaving you aching for the second book. I also liked the characters. They have enough depth to be very interesting. Plus, the characters are spread in traits, beliefs and wants. They all have different backgrounds, act differently and care about very different things. This means that some of the characters do not want to be a part of the game, but know they must, whilst others have yearned for this day, trained for it. These differences are held in the characters and ultimately decide how they act in certain situations. The overall story is brilliant! As far as a dark fantasy/sci-fi blend it is epic and really does pull in all types of readers, making them a part of so much more. The real Endgame is one of the most brilliant ideas I have seen in ages. Linking together a great read with a true puzzle is brilliant. It does mean that you have to switch your mind back and forth between the book and the world, but this is not the full aim. It is meant to really get you to absorb yourself into the world of Endgame, to be a part of it, striving to be like the players in the book...to be the first to solve the puzzle. They have even made Endgame more real, with a link between the world puzzle and the book by have events that take place all over the world.