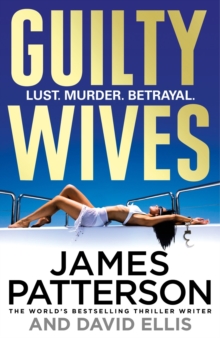 Description
Only minutes after Abbie Elliot and her three best friends step off a private helicopter, they enter the most luxurious, sumptuous, sensually pampering hotel they have ever been to.
Their lavish presidential suite overlooks Monte Carlo, and they surrender: to the sun and pool, to the sashimi and sake, to the Bruno Paillard champagne.
For four days they're free to live someone else's life.
As the weekend moves into pulsating nightclubs, high-stakes casinos, and beyond, Abbie is transported to the greatest pleasure and release she has ever known.
In the morning's harsh light, Abbie awakens on a yacht, surrounded by police.
Something awful has happened - something impossible, unthinkable.
Abbie, Winnie, Serena, and Bryah are arrested and accused of the foulest crime imaginable. And now the vacation of a lifetime becomes the fight of a lifetime - a fight for survival.
Guilty Wives is the ultimate indulgence, the kind of non-stop joy-ride of excess, friendship, betrayal, and danger that only James Patterson can create.
Information
Format: Hardback
Pages: 448 pages
Publisher: Cornerstone
Publication Date: 19/07/2012
Category: Thriller / suspense
ISBN: 9781846057892
Free Home Delivery
on all orders
Pick up orders
from local bookshops
Reviews
Showing 1 - 1 of 1 reviews.
Review by adpaton
16/06/2015
Cigarettes, soap operas, champagne, potato crisps and James Patterson: none of them benefits you in any way but all are compulsively addictive and, as any addict knows, avoid them altogether because once you start, it's very difficult to stop. I've just enjoyed [if that's the right word] a 'lost weekend' of my own recently: I managed to stay away from the cigs, champers and crisps, but made up for it by consuming three James Pattersons one after the other, chain-smoking them as it were, over two days. The prolific Mr. P has already brought out six of a projected twelve books this year but three was my limit. Until next time… The good thing about products from Patterson and Co. [he uses a team of 'with' writers] is that you know what to expect: the books are machine-written to a strict formula which includes entirely predictable twists but bars any real surprises. Guilty Wive is a stand-alone book which is unusual in the Patterson canon: lest the reader dismiss Patterson for writing only Dick-fic, he does sneak in the occasional nod to chick-fic, as in this book where the protagonist is a woman, Abbie Elliot, who together with her three best friends goes for a weekend break in Monte Carlo. The 'ladies' are middle aged, gorgeous, affluent and unhappily married so its no surprise when the action moves to a private yacht and things get a tad steamy – don't worry, nothing x-rated enough to cause a girl to blush. They are woken in the morning by French militia who haul them to shore in a state of sexy dishabille: two of the previous night's party playmates were murdered and, even worse, the dead men were actually the President of France [whom no-one recognized in his toupee] and a bodyguard! Abbie and her gang are labeled terrorists and slapped into a women's prison: corrupt warders, girl-on-girl action and lesbian rape beckons, and prison uniform is no substitute for sexy designer clothes. Really, Abbie had no option but to escape and prove who the real killer is. That he's a homicidal maniac is undoubted – Patterson doesn't write them any other way. Oh, and one of her posse is a beautiful black South African, married to an ugly short but very rich Afrikaner who beats her, is obsessively jealous and has a penchant for calling other men 'my brar'. Oh my, could he possibly have had anything to do with the murders? Paragraph-long chapters, as many twists as a Free State road, cardboard characters and indifferent writing laden with clichés are hallmarks of the Patterson style – but I'm not slating it. He has had over 80 books published in the last ten years and while his literary talents might not rank much above those of, say, Barbara Cartland, the man is a gifted story teller with a positive genius for getting you to turn the next page. I read three in one sitting so I know.