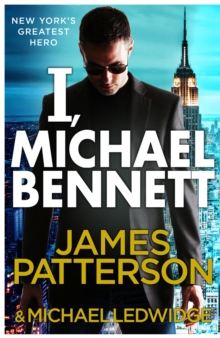 I, Michael Bennett : (Michael Bennett 5)
Hardback
Description
Detective Michael Bennett arrests an infamous South American crime lord in a deadly chase that leaves Bennett's lifelong friend Hughie McDonough dead.
From jail, the prisoner vows to rain epic violence down upon New York City - and to get revenge on Michael Bennett.
To escape the chaos, Bennett takes his ten kids and their beautiful nanny, Mary Catherine, on a much-needed vacation to his family's cabin near Newburgh, New York.
But instead of the calm and happy town he remembers growing up in, they step into a nightmare.
Newburgh is an inferno of warring gangs, and there's little the police - or Bennett - can do to keep the children safe.
As violence overwhelms the state, Bennett is torn between protecting his hometown and saving New York City.
A partner in his investigations, federal prosecutor Tara McLellan, brings him new weapons for the battle - and an attraction that endangers his relationship with Mary Catherine.
A no-holds-barred, pedal-to-the-floor, action-packed novel, "I, Michael Bennett" is James Patterson at his most personal and most thrilling best.
Information
Format: Hardback
Pages: 416 pages
Publisher: Cornerstone
Publication Date: 07/06/2012
Category: Thriller / suspense
ISBN: 9781846057625
Free Home Delivery
on all orders
Pick up orders
from local bookshops
Reviews
Showing 1 - 1 of 1 reviews.
Review by adpaton
16/06/2015
Cigarettes, soap operas, champagne, potato crisps and James Patterson: none of them benefits you in any way but all are compulsively addictive and, as any addict knows, avoid them altogether because once you start, it's very difficult to stop. I've just enjoyed [if that's the right word] a 'lost weekend' of my own recently: I managed to stay away from the cigs, champers and crisps, but made up for it by consuming three James Pattersons one after the other, chain-smoking them as it were, over two days. The prolific Mr. P has already brought out six of a projected twelve books this year but three was my limit. Until next time… The good thing about products from Patterson and Co. [he uses a team of 'with' writers] is that you know what to expect: the books are machine-written to a strict formula which includes entirely predictable twists but bars any real surprises. The June release, I, Michael Bennett, is fifth in the Michael Bennett series. Now Michael is a widowed New York cop with ten – count them, TEN – adopted children. He has a beautiful [naturally] live-in Irish nanny to take care of the brood and [no surprise] there is an unmistakable but unstated sexual frisson between them. Bennett is, of course, of Irish descent, went to Catholic school and frequents Irish pubs where he sings mournful Irish songs: when the head of a drug cartel has his old friend [also an Irish cop] killed Michael is enraged and 'takes him down', making New York a safer place but unwittingly pinning a target on his own back. A year later and, quelle surprise, Michael's family is threatened. He takes the brood out of town to the family cabin but the drug dealer escapes and, mad-dog killer that he is, exacts terrible vengeance on anyone involved in his downfall. Top of the list is Mike and the kids, and the nanny, and even Mike's grandfather. Gosh!Paragraph-long chapters, as many twists as a Free State road, cardboard characters and indifferent writing laden with clichés are hallmarks of the Patterson style – but I'm not slating it. He has had over 80 books published in the last ten years and while his literary talents might not rank much above those of, say, Barbara Cartland, the man is a gifted story teller with a positive genius for getting you to turn the next page. I read three in one sitting so I know.
Also in the Michael Bennett series | View all