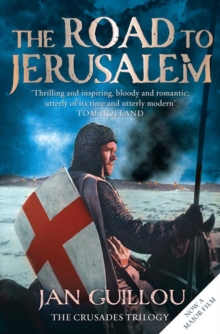 The Road To Jerusalem
Paperback
Description
The epic story of one man's fight for his love, his God and his country The Road to Jerusalem - Book 1 in the Crusades Trilogy.
Arn Magnusson, born into an aristocratic Swedish family, is raised in an old monastery because of an old promise made by his mother.
From the start he shows the natural skill and aptitude of a born fighter, yet despite his strength he is innocent in the ways of the world.
He is sent from the sheltered walls of the convent to experience something of real life.
On his journeys Arn falls foul of various fighting groups, but is also delighted with the women he encounters.
Seduced by one sister, he falls in love with the other and ends up sleeping with them both - a mortal sin in the medieval church.
While his love is sent to a convent, Arn's sentence is commuted to forced commitment to the cause of the Crusades, where he becomes a notable soldier and eventually a high ranking commander of the Knights Templar and both friend and enemy to the charismatic Saladin.
Arn's Story continues in the next two books: The Knight Templar and Kingdom at the End of the Road.
Information
Format: Paperback
Pages: 400 pages
Publisher: HarperCollins Publishers
Publication Date: 05/01/2009
Category: Historical adventure
ISBN: 9780007285853
Free Home Delivery
on all orders
Pick up orders
from local bookshops
Reviews
Showing 1 - 1 of 1 reviews.
Review by Kasthu
16/06/2015
Arn of Gotha is born in 1150, the younger son of a wealthy landowner. After a miracle occurs, Arn is sent to a monastery, where he is trained in both spiritual and physical matters—in the latter, by a former Knight Templar. The novel covers Arn's early years, up until the time he is sent off to fight as a Knight Templar himself. The outcome of the novel is inevitable, but it's the way that Arn gets there that is particularly interesting.It's not an easy read, by any stretch; I don't know if it's Jan Guillou's writing style or the way the translator translated the book, but there were certain passages that were a bit slow going for me. There's also a lot in here about faith and sin, although I didn't find the religious bits off putting. Rather, it led an air of veracity to the whole novel. There's also a fair amount of Swedish history thrown in, though Guillou doesn't hit his reader over the head with it. The political maneuverings of medieval Sweden can be a bit confusing, though.More than anything, though, this is a coming of age novel, set in a place that I really didn't know much about 9I'm familiar with 12th-century history in other parts of Europe, but Sweden was a whole new ball game for me). It was a little hard for me to believe that Arn could be such an innocent about certain things, but I think the author handled Arn's development as the central character especially well. The Road to Jerusalem is the first book in a trilogy that continues with The Knight Templar and Birth of the Kingdom.
Also in the Crusaders Trilogy series