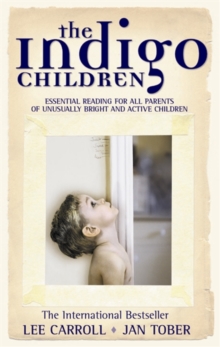 The Indigo Children
Paperback
Description
This book is a must for the parents of unusually bright and active children. Indigo children are those who display a new and unusual set of psychological attributes and show a pattern of behaviour generally undocumented before. In this groundbreaking book on the Indigo Child, international authors Lee Carroll and Jan Tober report the information of this increasingly documented and world-wide phenomenon and tell you how to identify this behavioural pattern and guide you on how you, as a parent or teacher of these children, can help them realise their amazing potential not forgetting their spiritual needs or specific health issues.
Other Formats
Paperback from £9.45
EPUB from £6.74
Free Home Delivery
on all orders
Pick up orders
from local bookshops
Reviews
Showing 1 - 2 of 2 reviews.
Review by aarhusian
16/06/2015
This hastily put together book by the team of Carroll and Tober claims that 95% of the children born in the last 10 years (i.e. the 1990s) display an indigo "aura" or energy pattern that can be read by psychics. Being further evolved than the rest of humanity, children displaying indigo astral hue typically evince odd or extreme behaviors. Many have been misdiagnosed as ADD or ADHD. Although the authors appear to be sincere in their claims, their assertion that Indigo Children are inclined to homicide discourages tolerant examination of their thesis. Shoddy, extreme and unhelpful for parents trying to understand why their children act the way they do in today's world.
Review by IonaS
27/08/2015
Indigo children are a new kind of children who have been coming into the world in recent years. They are termed Indigos because their auras have been found to be indigo in colour.I've been somewhat disappointed by this book due to the fact that Lee Carroll did not seem to want to let us know about his role as channeller of Kryon, as though this was too "weird". Also, the role and function of Doreen Virtue, a main contributor to the book, as an angel expert I felt was extremely underplayed, as though this too was weird. Also, there were so many different contributors to the book that I was somewhat confused as regards who was the author of whatever section I was reading.However, all in all I found it to be a useful book providing much valuable information about Indigos.I most appreciated the listing of the most common traits of Indigo children:1)They come into the world with a feeling of royalty.2)They have a feeling of deserving to be here.3)Self-worth is not an issue. They often tell the parents who they are.4)They have difficulties with absolute authority (without explanation or choice).5)They simply will not do certain things, for example stand in a queue.6)They get frustrated with systems that are ritual-oriented and don't require creative thought.7)They often see better ways of doing things and thus seem like "system-busters".8)They seem anti-social unless they are with their own kind. School is often extremely difficult for them socially.9)They will not respond to "guilt" discipline" such as "Just wait until your father comes home!"10) They are not shy in letting you know what they need.Many of these children have been diagnosed with ADHD and ADD, since they have excessive amounts of energy, bore easily, have a short attention span and cannot sit still unless absorbed in something of their own interest. Many will be labelled as hyperactive trouble-makers who won't listen."Indigos came to serve the planet, their parents, and their friends as emissaries from Heaven – bearers of wisdom, if listened to."They appear to stay happy, are very spiritual, and have their own agenda.They demand much attention and can't figure out why others operate in anything other than love.The advice given is to treat Indigos with respect, help them create their own disciplinary solutions and give them choices about everything. " … if you give them authoritative, dictatorial orders without good, solid reasons, these kids will take you apart:"Indigos are open and honest – this is their greatest strength.There are sections written by various persons who themselves are parents of Indigo children and have thus special insight into them.We are advised not to medicate these children with Ritalin since it is obviously harmful, in that it causes biochemical imbalances.Instead, we could give the children a dietary supplement called Smart Start, which contains chelated minerals, antioxidant vitamins and "botanicals" (whatever these are, presumably something derived from plants). Many parents have found that this supplement helps tremendously. Other useful supplements are also recommended, particularly blue-green algae from Klamath Lake (before reading this book I had actually just ordered this supplement for myself to help me with detoxing).To sum up, I found this to be an important book in the understanding of these Indigo children, particularly since I have a grandchild who seems to be one. It provides helpful information and advice on how best to tackle them, and I would recommend it both to those with children with ADHD or ADD symptoms, or those who suspect their kids to be Indigos. (However, it is pointed out that all Indigos do not have ADHD or ADD, and all those with these symptoms are not Indigos.)
Also by Jan Tober