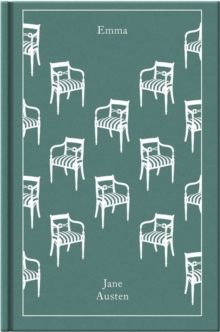 Description
Part of Penguin's beautiful hardback Clothbound Classics series, designed by the award-winning Coralie Bickford-Smith, these delectable and collectible editions are bound in high-quality colourful, tactile cloth with foil stamped into the design.
Beautiful, clever, rich - and single - Emma Woodhouse is perfectly content with her life and sees no need for either love or marriage.
Nothing, however, delights her more than interfering in the romantic lives of others.
But when she ignores the warnings of her good friend Mr Knightley and attempts to arrange a suitable match for her protegee Harriet Smith, her carefully laid plans soon unravel and have consequences that she never expected.
With its imperfect but charming heroine and its witty and subtle exploration of relationships, Emma is often seen as Jane Austen's most flawless work.
Information
Format: Hardback
Pages: 512 pages
Publisher: Penguin Books Ltd
Publication Date: 28/09/2009
Category: Classic fiction (pre c 1945)
ISBN: 9780141192475
Free Home Delivery
on all orders
Pick up orders
from local bookshops
Reviews
Showing 1 - 3 of 3 reviews.
Review by bookworm12
27/08/2015
When I read through Austen's main six novels, this one was the last one I read. It was 2006 and after reading Persuasion and Pride & Prejudice, Emma did not become my new favorite. Rereading it, as always, has given me a greater appreciation for the book and for what Austen was able to do with the character. Oh Emma, you are so self-involved and sure of yourself. I loved this one so much more the second time around. The first time I just had such a hard time liking Emma. That's not a bad thing; in fact in this case it means there is a lot more room for the character to evolve. Emma is treated like the mature woman of the house because her older sister is married and her mother past away. But in so many ways Emma is still a young, immature girl. She thinks she's always right and that her pleasure is the most important factor in most situations. So many of her decisions and matchmaking choices are based on what she wants and who she wants her friends to marry. She was raised in environment where she always got what she wanted and that selfishness continues to permeate in her 20s.I adore the fact that Mr. Knightley is the only one who will call Emma on her BS. While everyone else is fawning over her he is challenging her to be a better person and think about her actions and influence on others. In my opinion, that's the kind of partner every person needs. Mr. Knightley isn't charming or entertaining, but he is the best kind of man. He lets his actions speak for themselves and is always looking out for the people around him. I've noticed that in Austen's novels she has a lot more respect for men like this (Darcy, Knightley, Ferrars) than she does for those that immediately charm (Willoughby, Wickham, Crawford). Speaking of the charmers, Frank Churchill is such a jerk. As I reread the book, knowing how it was going to end, I was so frustrated by his behavior. The way he manipulate situations and takes advantage of people's good nature is horrible. I also thought it was interesting that Mr. Elton is often shown as the villain or at least someone you don't end up liking, but he really didn't do anything wrong. He's not a character I particularly like and his choice of a spouse is abominable, but I think most men would've thought Emma was interested in them based on her actions.BOTTOM LINE: It's Austen, so it's delightful. I definitely have a great appreciation for this book now and I loved Knightley even more this time around. I think that Austen did a wonderful job showing character growth in this novel, second only to Anne's in Persuasion. "One half of the world cannot understand the pleasures of the other.""I may have lost my heart, but not my self-control. ""I cannot make speeches, Emma...If I loved you less, I might be able to talk about it more. But you know what I am. You hear nothing but truth from me. I have blamed you, and lectured you, and you have borne it as no other woman in England would have borne it."
Review by Coffeehag
16/06/2015
I read this book perhaps 20 years ago, and since then I have seen filmed versions of it so many times that I didn't think the book could hold any charm for me any more. How wrong I was! Films can never equal Jane Austen's wit. This book is told with a hilarity that held me transfixed, turning pages. The films canvas many chapters in mere seconds, and they can never capture the thoughts and characters of Austen's figures as the book does. It will not be so long before I read this work again.
Review by KWellnotGood
16/06/2015
Overall a delightful read, but often overly expository at times. Despite the Regency setting, the plot is relatable to many who've ever hidden behind their own feelings by pushing their friends into relationships--all the while misinterpreting the situation at times. A very enjoyable novel that read before Pride & Prejudice, Persuasion, and Mansfield Park really show the progression of Austen's writing.