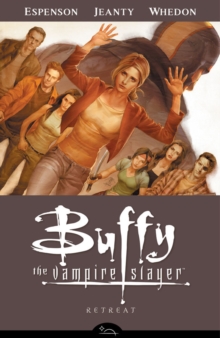 Buffy the Vampire Slayer : Retreat Season 8, volume 6
Paperback
Information
Format: Paperback
Pages: 168 pages, chiefly col. Illustrations
Publisher: Dark Horse Comics,U.S.
Publication Date: 24/02/2010
Category: Horror & ghost stories
ISBN: 9781595824158
Free Home Delivery
on all orders
Pick up orders
from local bookshops
Reviews
Showing 1 - 5 of 12 reviews.
Previous | Next
Review by timjones
16/06/2015
I have been somewhat disappointed by Volumes 4 and 5 of Buffy Season 8, but this 5-issue "Retreat" arc was a lot more satisfying. Buffy and her crew attempt to give up magic under the relentless pressure of Twilight (and no, for non-fans, Kristen Stewart has nothing to do with it), and enlist the aid of people with expertise in the matter; but in the end, the magic finds them ill-prepared.The previous two volumes were frustratingly bitty and unfocused. With a full five-issue arc, Retreat can tell its story in a way which lets character development be shown through characters' actions, rather than haphazardly. If this upswing continues over what will (I believe) be the final two volumes, the series should finish as strongly as it started.
Review by lithicbee
16/06/2015
Yay, Oz is back! (Not a spoiler, look at the cover.) Boo, our Slayers are being forced to be very un-Slayer-like, as they retreat against the forces of Twilight (no, not glowing vampires), a mysterious, gravelly-voiced masked super-villain who really hates Buffy. Maybe I should know who it is under the mask, or at least have some good guesses, but it's been a while since I've watched the entire show, so I am cheerfully in the dark and wondering when oh when will Twilight's identity be revealed. The artwork in this volume continues to be fun/semi-cartoony. The story seems to be building up to a climax (Season 8 finale?), as the Slayers find themselves in old-fashioned war against the military forces of the U.S.A. and Twilight, but the end is not arriving quite fast enough for my tastes. Hopefully the next volume sees some resolution to the Twilight arc.
Review by Rhinoa
16/06/2015
Twilight finally finds Buffy and her Slayer army, they track them using the magic they are using to shield and protect their fortress in Scotland. Buffy takes the gang to the only person she knows who has been able to give up the magics. Oz is able to surpress his werewolf nature and has made a family for himself in Tibet. Can he train the Slayers and Willow to release their magics and defeat Twilight's army with brute strength.
Review by catfantastic
16/06/2015
[SPOILER ALERT]Summary: <i>Twilight and his gainfully employed military units are hot on Buffy's magical trail - forcing her and Slayers across the globe into hiding. Buffy retreats into the Tibetan mountains to seek aid from the only person she knows who can suppress his true nature - Oz.</i> (from back cover.)I've enjoyed most of the <i>Buffy Season Eight</i> graphic novels up this point, but was disappointed with 'Retreat.' The idea that Buffy and her Slayers should give up their strength seems to run contrary to the overall theme of the series, and Willow being too powerful and needing to give up her magic was already done to death on the television show. Faith and Giles are reunited with Buffy and the others, only to be regulated to minor roles - basically ignored. And the return of Oz is marred by Jeanty's art; he's simply unrecognizable. There are uncharacteristic changes for the regular cast as well - a bizarre love-triangle between Buffy, Dawn and Xander comes out of nowhere, and Willow is suddenly jealous of Oz having a wife and a baby - so much so that she's possibly a threat to the infant's life.  Rating: 2/5 - I found I actually enjoyed the two short stories at the end the most - Harmony on the <i>Colbert Report</i> and a hilariously twisted dream sequence illustrated by the <i>incomparable</i> Jo Chen.Recommended: if you've stuck with the <i>Season Eight</i> comics this far, you'll want to read 'Retreat' - but I don't think it's the best of the series.
Review by Girl_Detective
16/06/2015
The comic-book series posits that there is now an army of slayers, spread around the world, training in unison against the forces of darkness. There's also a big bad, named Twilight, who's gunning for Buffy and her army of slayers. In "Retreat" the Twilight army keeps getting closer because they can track magic and power. Buffy and the Scooby gang head to Tibet to look up an old friend who might have something to say about using less magic and less power.Penned by Jane Espenson, a Buffy scribe from the later seasons, this story was a mess. The humor was infrequent and unfunny. The art was hard to read; I often couldn't tell which character was which, and if it wasn't a close-up, the details were, literally, sketchy. The threats weren't threatening, the relationships didn't have depth, and while it ended on a mysterious cliff hanger, the bottom of the page had the audacity to read "The End". I don't care to find out what happens next. I'll leave the character of Buffy in mid air (really) and be done with this series.