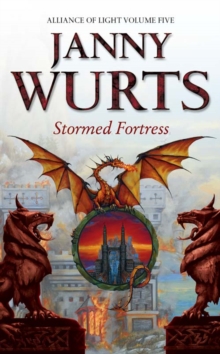 Stormed Fortress : Fifth Book of the Alliance of Light
Paperback
Description
The spellbinding final instalment of The Alliance of Light.
Though Athera may be free, the fight is far from over...The heartstopping conclusion to the Alliance of Light series brings Lysaer's army of Light to besiege the great citadel of Alestron.
Master of Shadow, Arithon, with barely a moment's recuperation from his victory over the necromancers, has discovered that young Jeynsa s'Valerient whom he has sworn to protect, has joined the ranks of his disowned allies within the threatened citadel.
Worse, following a failed rescue attempt, his beloved Elaira, his double, Fionn Areth, and the spellbinder Dakar are also trapped within Alestron's walls.
The chancy wiles of Davien the betrayer must spirit Arithon across the enemy lines to attempt a bold and perilous rescue mission.
Arithon must seek the heartcore of his talent, even while embroiled in a savage battle against those he has vowed to protect.
But treachery strikes from deep within the duke's ranks.
Lysaer's fanatics will be unleashed to claim their bloody revenge. With the Fellowship Sorcerers in mortal danger, and all under threat from a collapsing grimward, Davien the betrayer is unable to intercede to save his colleagues and so will be forced to invoke the dire terms of an ancient and most secretive bargain.
Arithon stands alone at the hour of reckoning as the true purpose of the Koriani enchantresses becomes, at long last fully, unveiled - with the covetous Prime Matriarch now poised to snatch a prize, a prize beyond that of merely integrity and life...
Information
Format: Paperback
Pages: 656 pages
Publisher: HarperCollins Publishers
Publication Date: 03/11/2008
Category: Fantasy
ISBN: 9780007217816
Free Home Delivery
on all orders
Pick up orders
from local bookshops
Reviews
Showing 1 - 1 of 1 reviews.
Review by reading_fox
16/06/2015
Superb. Classic epic fantasy from the first word right through to the final wrapping up of this arc of the story. Dramatic tension from the beginning and gripping characters throughout beguile and entrance the reader into one long journey of highs and lows.The Stormed Fortress in question is, as was foretold in the preceding volume of <i>Traitor's Knot</i>, Duke Brandion's Pavarian warded citadel of Alestron. Given previous opportunity to flee the Duke is secure in is knowledge that the fortress has never fallen, and even the vast might of Lyessar's Alliance of Light armies are not enough to scare him. Besides with Jyessa trapped within, the fortress also holds Arithon's promise to keep her safe. Arithon has changed - the perils of Kewar's maze have enhanced his natural compassion, and even to spare the citadel's population, he will not shoulder the burden of more deaths. This leads to all kinds of desperate straits, with the Mistwraith's curse still active to snare the brothers into unrestrained animosity. Meanwhile of course the Koriathians are still desperate to snare Arithon and ensure the Compact is broken, whilst the Fellowship Sorcerers are hard put to maintain their responsibilities as every manifestation of Arithon's ingenuity taxes already strained futures for the Pavarians and mankind's presence on Athera. Davien the Betrayer, is still active with his own vision of the future - but even he has promises that have to come due.There are a couple of very minor bits that could have been improved - mostly relating to events in previous books. Unless you have a very good memory (better than mine anyway) I find I can't accurately recall the precise details of prophecies that were detailed sometimes several books previously. Whilst the prophecy is sometimes mentioned, I could have done with a refreshing of the important details, as many of these now come due. Fionn's especially needs more detailing. And my other personal dislike is the continued practice of scrying into the next scene that happens occasionally.All the rest is magnificent, even if wrenching at times. I will never get used to favourite characters being killed, but the handling of death and importance of free choice is one of the key themes of the series. Elaria gets special mention, which given she barely featured in a couple of books is very gratifying. Her personal fate remains fraught with tension - and many question remain to be answered in next story arc. Lyessor also gets a lot more detailing and complex motivations rather than just becoming the focus of evil he appeared in some of the previous books.A real highlight of the series this is the conclusion to many of the storylines. Simply a superb wrapping up of many characters' complex fates, and a wonderful story. I'm sure I'll be re-reading the entire series several times, purely to wring more joy from this ending. Read them all.
Also in the The Wars of Light and Shadow series | View all