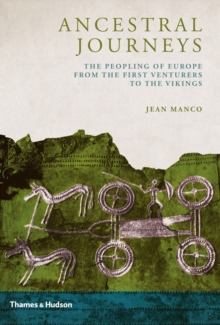 Ancestral Journeys : The Peopling of Europe from the First Venturers to the Vikings
Hardback
Description
This pioneering book brings together for the first time the latest genetic evidence and combines it with archaeology and linguistics to produce a new history of Europe.
Who are the Europeans? Where did they come from? In recent years scientific advances have yielded a mass of new data, turning cherished ideas upside down.
The idea of migration in prehistory, so long out of favour, is back on the agenda.
Visions of continuity now have to give way to a more dynamic view of Europes past, with one wave of migration followed by another, from the first human arrivals to the Vikings.
Information
Format: Hardback
Pages: 312 pages, 116 illustrations, 66 in colour
Publisher: Thames & Hudson Ltd
Publication Date: 09/09/2013
Category: European history
ISBN: 9780500051788
Free Home Delivery
on all orders
Pick up orders
from local bookshops
Reviews
Showing 1 - 1 of 1 reviews.
Review by annbury
16/06/2015
This book examines the question of where the peoples of Europe came from, and how they spread across the continent. The author combines the latest genetic analysis, archaelogical information, and linguistic analysis to provide multidimensional answers to these complex questions. The author stresses -- helpfully, I think -- the switch in views on the European past over the past thirty years or so. The consensus has moved to an emphasis on migration (people and cultures moved) away from the stable population approach (culture moved, people pretty much stayed in place). Here, genetic analysis has been invaluable, showing that ancestral DNA in many locales does NOT bear a close relationship to the DNA of people who live there now.Her time span ranges from the deepest past up to the Viking age, and presents a lot of information of which I was not aware -- a lot of which focusses on how fast populations actually have changed. The Slavs, for example, appear to have emerged well into the first millenium. Another key point she emphasizes is that cultures retreat as well as advancing, due to sickness, climate change, or war. She stresses that population dropped sharply in many areas on many occasions. My only quarrel with the book is that I found it tedious at time. That is likely to be more my fault than the authors (haplogroup analysis is critical, but I don't know enough to find it thrilling). In addition to this book, however, I would recommend "The Horse, The Wheel and Language" by David Anthony. This book is a tad older than Manco's (2007) but for whatever reason I found it even more interesting. How fortunate history buffs like me are to live in a period when research is uncovering so much about unwritten human history!
Also by JEAN MANCO