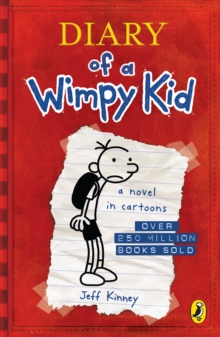 Diary of a Wimpy Kid
Paperback
Description
Greg Heffley finds himself thrust into a new year and a new school where undersize weaklings share the corridors with kids who are taller, meaner and already shaving. Desperate to prove his new found maturity, which only going up a grade can bring, Greg is happy to have his not-quite-so-cool sidekick, Rowley, along for the ride.
But when Rowley's star starts to rise, Greg tries to use his best friend's popularity to his own advantage.
Recorded in his diary with comic pictures and his very own words, this test of Greg and Rowley's friendship unfolds with hilarious results.
Information
Format: Paperback
Pages: 224 pages, Illustrations
Publisher: Penguin Books Ltd
Publication Date: 03/07/2008
Category: General
ISBN: 9780141324906
Free Home Delivery
on all orders
Pick up orders
from local bookshops
Reviews
Showing 1 - 5 of 12 reviews.
Previous | Next
Review by sirfurboy
16/06/2015
This is a good fun read. A story written in the form of a middle school boy's diary (or journal as he would prefer it to be known) complete with his own cartoons which are a perfect and hilarious counterpoint to his authentic pre-teen voice, that says so much by leaving out so much!There are various cultural references that a non American reader must interpret - usually with an eye to what we see on movies. I think middle school is like 11-14 or something, but no doubt an American reader of this comment can correct me if I am wrong.I loved the way this book gets into the head of the boy who writes it though. Things like "The Cheese Touch" or the naming of your racing cars with rude words and such like to put off your opponent are just so reminicent of that age.What I particularly enjoyed was the way memory and imagination can fill in so many details. The boys in one class end up making a list of rude words they don't want their robot to say. Not only was that a hilarious scene, but I could also imagine being there, and I could imagine all the conversations and hilarity that would surround that list. The description is brief but somehow it brings out so much more.All in all this is a perfect book for 8-13s or so, and indeed anyone who remembers what it was like to be that age!
Review by sweetiegherkin
16/06/2015
This book is presented as the written and pictorial journal of middle school student Greg Heffley, representing one school year's worth of everyday adventures and misadventures (many of which involve his best friend Rowley). The story is entertaining, and I enjoyed the extra humor the cartoonish pictures added. Although Greg does a fair amount of underhanded things, somehow he still comes across as a likeable character, perhaps because he is so relatable and the situations all come off as funny (even if they wouldn't seem that way in real life).
Review by martensgirl
16/06/2015
This book will suit kids of all ages and had me, a child in my thirties, laughing out loud. It documents the life of Greg, a child who gets himself into some unfortunate incidents. It a short read and is interspersed with funny cartoons. Like the Adrian Mole books, the adults will laugh at different things to the children...
Review by eglinton
16/06/2015
Greg, the wimpy kid, is a great invention, both as the cartoon drawing and in his outlook. Memorable and funny, very well-paced, and often pathetic, as the lot of the non-disadvantaged growing-up child is. His experiences are very mundane, as befits a ?10-year old schoolboy, and he's not very nice to family or friends, a good reminder of the strong selfishness of childhood (well, ok, of personhood). But all this makes him recognizable and memorable to kids, who seem to be the biggest fans of this book (and series). But oh so hilarious! Like a Monty Python gag, you'll find yourself reciting and repeating your favourite bits with chortling fellow fans.
Review by BettyB112
16/06/2015
Okay, I started reading these things to figure out what my twin 7-year-old boys were finding out. These books are pretty good. Jeff Kinney knows his audience and gives them plenty to laugh at without betraying childhood. I have found myself laughing out loud at times, imaging the whole scene being described. Mostly harmless, and worth an afternoon.
Also in the Diary of a Wimpy Kid series | View all