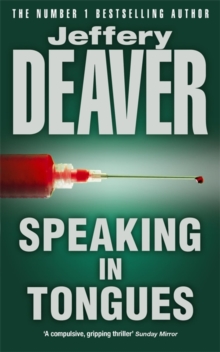 Speaking in Tongues
Paperback
Description
Words are the most dangerous weapons on earth - and Tate Collier, who has a consummate skill with them, can talk his way into anyone's heart, and get them to do whatever he wants.
Tate is a lawyer who used to defend death penalty cases in Virginia's Supreme Court; now he concentrates on work for the local community.
When his teenage daughter goes missing all the signs are that she's run away. But Tate and his ex-wife, Bett, feel differently, and set out in search of her. To discover that Megan is in the hands of a man with no morals and as great a gift for words as Tate himself.
Megan's is not the only life in danger...
Information
Format: Paperback
Pages: 320 pages
Publisher: Hodder & Stoughton General Division
Publication Date: 05/06/1999
Category: Thriller / suspense
ISBN: 9780340640234
Free Home Delivery
on all orders
Pick up orders
from local bookshops
Reviews
Showing 1 - 1 of 1 reviews.
Review by Lman
16/06/2015
After some research I think that, perhaps, <i>Speaking in Tongues</i> was not the best book to commence my Jeffery Deaver reading experience with! Although particularly easy to read – there is a style to his words which allows the story to flow effortlessly across the page – on the whole I felt there was something basic lacking in the premise; plausibility possibly, it was just too glib for my liking.It is the story of a fractured, dysfunctional family who, through this anomaly, is now vulnerable to a psychotic revenge. When Megan, the angst-driven teenage daughter of divorced couple Tate (once a high-powered attorney) and Bett (now a successful business-woman), fails to appear at a rare family gathering, both parents uncharacteristically unite to find her; believing she has been kidnapped rather than simply running away. As they begin their search they need to become, once more, a working family unit. Thwarted most cleverly at every turn by a mentally-unstable and delusional adversary this, then, requires a leap-of-faith and a depth of feeling in each other, sadly-lacking previously, to drive them on – whilst unearthing, on the way, many deeply buried secrets and past hurts, for everyone involved.Filled, overwhelmingly, with characters displaying all of society's major social demons, it is also the tale of two men with silver-tongues, and the use of this rhetoric to manipulate the vulnerable, the weak and the damaged. But it is this manipulation, to my mind, while so central to the plot, which detracts from the heart of the story – fictional context aside, it is highly questionable, and just too improbable that <i>all</i> these characters would fall so effortlessly to this honey-tongued madman's dialogue; and so quickly and absolutely. Furthermore, I just didn't care all that much about the characters; to really worry about the consequences of events, to fret about their circumstances and to fear for their ultimate outcome. Fundamentally, this wasn't, what I would describe as, an-edge-of-the-seat read. I was involved enough to desire to uncover the reason, the basis, for the attack on Tate's family; I was invested enough that small results surprised me but, overall, I felt there was opportunity wasted: to build much greater suspense within the fabric, to add more dimension to the characters and to supply much more depth to the tale. Ultimately, I think I would read other, more lauded books by Jeffery Deaver instead; and while not suggesting this book has no redeeming features, I would not have been at all vexed to have omitted it from my reading list.