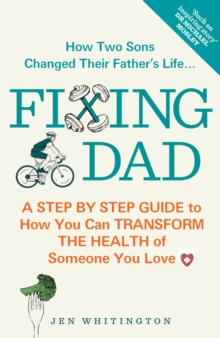 Fixing Dad : How Two Sons Changed Their Father's Life - A Step by Step Guide to How You Can Transform the Health of Someone You Love
Paperback
Description
This is the story of a man whose lifestyle choices caught up with him...until his two sons decided that things had to change.
Three years ago, Geoff Whitington was overweight, overworked and resigned to a premature death from a catalogue of health conditions.
His doctor had started to talk to him about the possibility of foot amputation as a result of his type 2 diabetes.
It was at this point that his sons, Anthony and Ian, embarked on a mission to restore their dad's health and enjoyment of life.
They soon discovered that there were no quick fixes.
They had to battle with decades of ingrained destructive habits, not to mention Geoff's almost superhuman stubbornness.
But they stuck with it...and in the next six months, Geoff lost 5 stone.
He went from being an obese, barely mobile night-time security guard to a fighting-fit endurance cyclist.
Best of all, he got his enthusiasm and motivation back.
In this book, Anthony and Ian show you how they did it...and share their brilliantly simple diet and fitness plan to enable you to encourage someone you love to do it too.
Contains a carefully devised three-part life plan, focusing on Diet, Fitness and Mindset. Fantastically user-friendly, including itemised shopping lists, and recipes and meal plans with minimum prep and minimum washing up.
Motivational tips and advice based on the brothers' experience of having to keep Geoff on track.
Information
Format: Paperback
Publisher: Short Books Ltd
Publication Date: 22/12/2016
Category: Memoirs
ISBN: 9781780722917
Free Home Delivery
on all orders
Pick up orders
from local bookshops