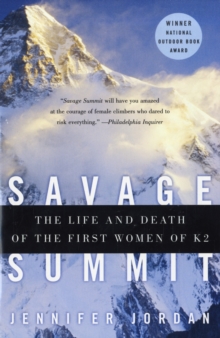 Savage Summit: The True Stories Of The First Five Women Who Climbed K2, The World's Most Feared Mountain
Paperback
Description
Here is narrative nonfiction at its most gripping. Journalist Jennifer Jordan chronicled the individual stories of the five courageous women who have climbed K2, the most fearsome mountain in the world.
Climbers call K2 "The Savage Mountain." It is not quite as tall as Everest, but it is far more dangerous, located at the border of China and Pakistan, in the deadly Karakoram range, which has the harshest climbing conditions and weather of any place in the world.
Ninety women have climbed Everest, but only five female climbers have ever reached the summit of K2 alive.
Three of these women died on the way back down the mountain, and the other two have died since their climb. Because, these five women, who defeated the most ferocious of all mountains, have lost their own voices, "Savage Summit" told their tragic and compelling stories.
The terror and triumph of K2 was revealed through the stories of the few women who have succeeded in climbing it.
The women in these stories are forced to deal with harsh conditions from the mountain, and from the men climbing around them, often being treated unfairly or discriminated against in their struggle to get to the summit. "Savage Summit" also attempted to answer tough questions: do female climbers rely too much on their male climbing partners?
Are women prepared for the physiological and emotional rigors of K2?
Are female climbers, because of the publicity and sponsorship opportunities afforded them, climbing the mountain without the proper training, endangering their own lives and the lives of those who climb with them? And, if women are as capable of men of climbing this most deadly peak, who will be next to attempt the long trek to the summit?
Information
Format: Paperback
Pages: 352 pages
Publisher: HarperCollins Publishers Inc
Publication Date: 27/12/2005
ISBN: 9780060587161
Free Home Delivery
on all orders
Pick up orders
from local bookshops
Reviews
Showing 1 - 3 of 3 reviews.
Review by mmmoss
16/06/2015
This book is in some ways depressing as all the main characters die and you know that in the beginning. But you also gain great respect and insight into the lives and motivations of 5 very different women climbers. The stories are well researched and well-told. I have read other books, particularly on Wanda Rutkewicz and Alison Hargreaves that round out their stories. Those are the 2 best-known female climbers of K2 and indeed, of their generation.
Review by riverwillow
16/06/2015
This is an interesting, and sadly rare, book about the women who climb mountains, in this case the first five women to stand on the summit of K2. Although not the deadliest mountain to climb, that honour is held by Annapurna, this is a much harder mountain to scale than Everest and for every four people who reach the summit, once dies on the descent and of the first five women to scale the mountain three died on the way down, leading to an accusation of a Ks having a curse on women - this curse has now been broken as since completion of the book five women have successfully summated and descended from the mountain, although not without personal cost.What is interesting about this book is how different in personality and approach the five women were - two were married with children and their husbands stayed home to care for the children whilst their wives climbed (its interesting to note that these were the two British women, Alison Hargreaves and Julie Tulles), one, Liliane Barrard climbed, and perished, alongside her husband. Hargreaves was posthumously demonised for abandoning her children, but from the book I sense that both spiritually and financially she had little choice. All the women were suffered at the hands of other, male, climbers, Rutkiewicz was demonised for her seemingly selfish determination, Barrard seems to have lived, willingly, in her husband's shadow, Tullis and Mauduit were sexually harassed and all seem to have suffered allegations from other, male, mountaineers, that they hadn't actually summited mountains that they had climbed. This is an interesting read which balances out the testosterone fuelled world of mountaineering books.
Review by doublebyte
16/06/2015
This is a very interesting book, both about the K2 and also the background/profile of the few women who climbed.Perhaps a lot people do not know that being the second tallest mountain in the world, K2 is a much harder climb than Everest and contrarily to it, here alpine style is the rule.To be honest I found the book a bit depressive and sad and it put me a bit off of ice climbing for the foreseen future; I'm sure there must be something interesting and fascinating about climbing K2 (and big ice mountains in general)...? if there is, I did not see it in this book; I only saw lots of masochistic pain and suffering all the way... Very easy read, though (don't read it, if you re into 8000 meters mountains!)