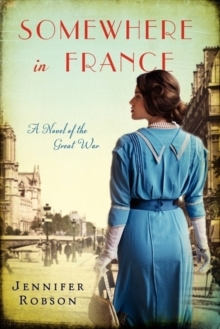 Somewhere in France: A Novel of the Great War
Paperback
Description
A daring young woman will risk her life to find her destiny in this atmospheric, beautifully drawn historical debut novel-a tale of love, hope, and danger set during the First World War. Lady Elizabeth Neville-Ashford wants to travel the world, pursue a career, and marry for love.
But in 1914, the stifling restrictions of aristocratic British society and her mother's rigid expectations forbid Lilly from following her heart.
When war breaks out, the spirited young woman seizes her chance for independence.
Defying her parents, she moves to London and eventually becomes an ambulance driver in the newly formed Women's Army Auxiliary Corps-an exciting and treacherous job that takes her close to the Western Front. Assigned to a field hospital in France, Lilly is reunited with Robert Fraser, her dear brother Edward's best friend.
The handsome Scottish surgeon has always encouraged Lilly's dreams.
She doesn't care that Robbie grew up in poverty-she yearns for their friendly affection to become something more.
Lily is the most beautiful-and forbidden-woman Robbie has ever known.
Fearful for her life, he's determined to keep her safe, even if it means breaking her heart. In a world divided by class, filled with uncertainty and death, can their hope for love survive...or will it become another casualty of this tragic war? The paperback includes a P.S. section with additional insights from the author, background material, suggestions for further reading, and more.
Information
Format: Paperback
Pages: 400 pages
Publisher: HarperCollins Publishers Inc
Publication Date: 31/12/2013
Category: Adult & contemporary romance
ISBN: 9780062273451
Free Home Delivery
on all orders
Pick up orders
from local bookshops
Reviews
Showing 1 - 5 of 6 reviews.
Previous | Next
Review by pjhess
16/06/2015
Really good historical fiction. Takes place in France during WWI. Highly recommend.
Review by arielfl
16/06/2015
I saw that this was one of the recommended reads for people suffering the let down blues from the end of Downton Abbey. I have read so many books about WWI and spunky women who did their part for the cause. I wasn't really expecting too much but I was pleasantly surprised.Lady Elizabeth (Lily) has greater aspirations for her life than sitting around waiting for a husband. When the war occurs she seizes her chance to lead a meaningful life by enlisting as an ambulance driver in France. It doesn't hurt that her brother's friend and crush Dr. Robbie is stationed there as well. Robbie and Lily have the usual annoying, misunderstandings people suffer from in novels as a result of never saying what they mean. I do have to hand it to Lily though. When she was on the outs with Robbie she didn't wallow in her pity but kept on living her life and driving her ambulance. Eventually events conspire to drive them back together and things end as well as they can in war time. Usually the WWI one novels I read are not romances so in that respect this one was a little unusual. It was not a frothy bodice ripper but an intelligent historical romance. That scene with Lily and Robbie in the hotel at the end that took place over two chapters earned it an extra star from me. Don't leave it laying around for the PG crowd.
Review by LiteraryFeline
16/06/2015
Somewhere in France by Jennifer RobsonWilliam Morrow, 2013Fiction (Historical); 400 pgsI was first drawn to read Somewhere in France after reading a description of it. Set during World War I, the novel is about a young woman, Lady Elizabeth, who wants to do her part in the war. Her mother forbids it, wanting her daughter to marry well and raise a family, true to the family's station in life. Elizabeth, or Lily as she prefers to be called, grew up around opulence and wealth, but she has always aspired to be something more than just her title allows. Encouraged by her former tutor and friend, Charlotte, as well as by her brother's best friend, Robbie, Lily leaves home and ventures out on her own. Lily is humble and modest. She has the grace of the lady she is, and is curious and eager to take on the world. I liked her instantly and appreciated how much she cared for people. I understood and could relate to her hesitancy when it came to taking those big steps, which was more from nerves and uncertainty than anything else. Lily was naive in many respects, but she was also smart and resourceful. She was not afraid to get her hands dirty and learn something new. Lily tries to hide her family roots once she enters the "real world", taking a job first as a painter and then as a "Clippie" (female conductor on a bus). When the opportunity comes to actually take part in the war effort more directly, Lily takes a job as an ambulance driver by joining the Women's Army Auxiliary Corps (WAAC). She is assigned to work in France, where she works alongside her brother's best friend Robbie, a surgeon. Like Lily, I was immediately taken with Robbie. His background is not one Lily's mother thinks highly of, although Robbie is the sort of man I think any mother should be proud of. He is hard working and thoughtful. He sees in Lily what she doesn't see in herself at first, helping her find the courage she needs to be who she wants to be. Somewhere in France is very much a love story, with Lily and Robbie at its heart. Forbidden love tends to make a compelling story, and this instance was no different. Lily and Robbie hae real chemistry, and I wanted nothing more than for them to be able to be together, despite the odds.The war itself plays an integral part to the story. Many were excited when war was declared, but the horrors of what was to come, the lives lost and the trauma suffered, soon brought everyone back to reality. War is not at all pretty. Jennifer Robson does a good job of capturing the affects of war on the men and women directly and indirectly involved in the fight. Not everyone reacts the same way, and I really appreciated the different perspectives the author provides. In particular, Lily's brother, Edward, comes to mind. None of the characters were left untouched by the war, and by the end, each had grown has individuals. Somewhere in France was an enjoyable book to read, full of heart and yet also bittersweet at times. I will definitely be reading more by this author in the future.
Review by gypsysmom
27/08/2015
World War I and II continue to inspire great stories. In this book Jennifer Robson shows life during World War I for a young British girl who volunteers to be an ambulance driver. It is a work of fiction but, as the daughter of a historian of World War I, Robson has tried to make it realistic.Lady Elizabeth Neville-Ashford is the youngest child of the Earl and Countess of Cumberland. At twenty years of age she has never attended school or held a job. Her mother is of the opinion that the only thing she needs to be prepared for is to marry a man of her social equal, just as her older sisters have done. Lady Elizabeth, who prefers to be called Lilly, did manage to get a decent education by prevailing upon her brother Edward to hire a good governess, Charlotte. When World War I breaks out Lilly wants to do her part and she is encouraged in this by her brother's best friend, Robbie Fraser. Robbie is a surgeon and is sent to France to care for the wounded. Lilly dares to write to him to wish him well and in their correspondence Robbie encourages her plans. Lilly decides to learn to drive and gets the mechanic from their Cumbria estate to show her how. When her parents discover this they dismiss the mechanic and Lilly leaves home. As plain Lilly Ashford she obtains a job as a driver in the Women's Army Auxiliary Corps (WAAC) and she manages to be sent to the same station that Robbie is serving in. Although fraternization between men and women is forbidden Lilly and Robbie manage to sneak away occasionally. Robbie is terrified that Lilly will come to harm. Lilly is determined to stay and do her duty. A quarrel ensues and Robbie refuses to speak to Lilly at all.This book seemed like more of a romance than a historical novel but I am sure the details are accurate. I just would have liked a little more exploration of the characters' emotions. Nevertheless it was a quick and easy read.
Review by KarenHerndon
27/08/2015
Well, this is a well written book and for those that like historical fiction it gives a fair account of rich, titled British girl during WWI along with what it must have been like as a woman ambulance driver close to the front lines during said war.My objection is that it is another predictable, sappy romance. Again, there is the miscommunication between the romantic couple that keeps their love from kindling beyond a mere spark until finally they manage to come to an understanding and realize their undying love for each other is both sided. At least in this story it isn't stretched out to total boredom as most are. Then, there is the almost perfect happy-ever-after again, predictable, ending.Would I recommend this book- yes to sappy love story readers.