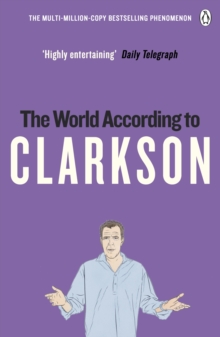 The World According To Clarkson Volume One,
Paperback
Description
Jeremy Clarkson shares his opinions on just about everything in The World According to Clarkson. Jeremy Clarkson has seen rather more of the world than most.
He has, as they say, been around a bit. And as a result, he's got one or two things to tell us about how it all works; and being Jeremy Clarkson he's not about to voice them quietly, humbly and without great dollops of humour. In The World According to Clarkson, he reveals why it is that: Too much science is bad for our health '70s rock music is nothing to be ashamed of Hunting foxes while drunk and wearing night-sights is neither big nor clever We must work harder to get rid of cricket He likes the Germans (well, sometimes) With a strong dose of common sense that is rarely, if ever, found inside the M25, Clarkson hilariously attacks the pompous, the ridiculous, the absurd and the downright idiotic, whilst also celebrating the eccentric, the clever and the sheer bloody brilliant. Less a manifesto for living and more a road map to modern life, The World According to Clarkson is the funniest book you'll read this year.
Don't leave home without it. 'The World According to Clarkson is a hilarious collection of Jeremy's Sunday Times columns and the first in his The World According to Clarkson series which also includes And Another Thing; For Crying Out Loud! and How Hard Can It Be? 'Brilliant, laugh-out-loud' Daily Telegraph 'Outrageously funny ...will have you in stitches' Time Out Number-one bestseller and presenter of the hugely popular Top Gear, Jeremy Clarkson writes on cars, current affairs and anything else that annoys him in his sharp and funny collections.
Born To Be Riled, Clarkson On Cars, Don't Stop Me Now, Driven To Distraction, Round the Bend, Motorworld, and I Know You Got Soul are also available as Penguin paperbacks; the Penguin App iClarkson: The Book of Cars can be downloaded on the App Store.
Information
Format: Paperback
Pages: 352 pages
Publisher: Penguin Books Ltd
Publication Date: 26/05/2005
Category: Motor cars: general interest
ISBN: 9780141017891
Free Home Delivery
on all orders
Pick up orders
from local bookshops
Reviews
Showing 1 - 5 of 13 reviews.
Previous | Next
Review by uryjm
16/06/2015
A collection of his writings for the Sunday Times, this was an amusing antidote to "Leadership". If Clarkson was to write a book on his thoughts on leadership, it wouldn't stretch to more than two paragraphs before slagging off all the poofs who currently don't lead. A moaning faced bastard, but funny with it, Clarkson just sums up the thoughts of the majority of middle aged, middle class blokes in Britain today.
Review by Clurb
16/06/2015
A selection of Clarkson's editorials from around 2002. Interestingly eclectic subject matter written with Clarkson's trademark humour. Rather enjoyable.
Review by birdy47
16/06/2015
Reading this while I eat breakfast. I love his attitude.
Jeremy at his best, what a great read. Everyone should read it it'll make you laugh, cry and wince!
Review by elliepotten
16/06/2015
As a collection of humorous newspaper columns from 'The Sunday Times', there really isn't that much to say in terms of a review. What I CAN say is that this book is very, very good. Clarkson has a brilliant wit and a no-nonsense approach to life that mix effortlessly in his columns, never failing to make me smile. That's why I have all three of the <i>World According to Clarkson</i> books, and why ol' Jeremy has joined the likes of Bill Bryson and Nick Hornby on my list of fall-back favourites for when I'm tired or just need a bit of cheering up.Covering subjects as diverse as travelling in Europe and Christmas office parties, pub food and modern music, there isn't one column here that made me stop and think, "well, that was a dud week." Not only that, but there are some great pieces on Clarkson's pet subject - transport - that are more accessible than some of his other work for a novice like me. For example, there are a couple of marvellous musings on the Concorde, filled with an affection and reverence that shine through in his writing.All in all, a brilliant collection - my copy is looking rather tattered now, which is always a good sign - and I'm looking forward to picking up Volume 2 (<i>And Another Thing...</i>) next time I need another pick-me-up!