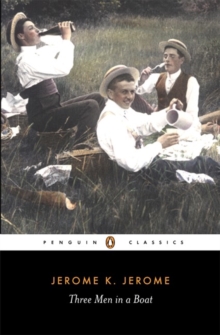 Three Men In A Boat
Paperback
Description
A comic masterpiece that has never been out of print since it was first published in 1889, Jerome K.
Jerome's Three Men in a Boat includes an introduction and notes by Jeremy Lewis in Penguin Classics. Martyrs to hypochondria and general seediness, J. and his friends George and Harris decide that a jaunt up the Thames would suit them to a 'T'.
But when they set off, they can hardly predict the troubles that lie ahead with tow-ropes, unreliable weather forecasts and tins of pineapple chunks - not to mention the devastation left in the wake of J.'s small fox-terrier Montmorency.
Three Men in a Boat was an instant success when it appeared in 1889, and, with its benign escapism, authorial discursions and wonderful evocation of the late-Victorian 'clerking classes', it hilariously captured the spirit of its age. In his introduction, Jeremy Lewis examines Jerome K.
Jerome's life and times, and the changing world of Victorian England he depicts - from the rise of a new mass-culture of tabloids and bestselling novels to crazes for daytripping and bicycling. Jerome K. Jerome (1859-1927) was born in Walstall, Staffordshire, and educated at Marylebone Grammar School. He left school at fourteen to become a railway clerk, the first in a long line of jobs that included actor, teacher and journalist.
His first book, On Stage and Off, a collection of humorous pieces about the theatre, was published in 1885, and was followed the year after with the more commercially-successful The Idle Thoughts of an Idle Fellow; but it was with Three Men in a Boat (1889) that Jerome achieved lasting fame.
He later went on to become one of the founders of the humorous magazine, The Idler, and continued to write articles and plays.
If you enjoyed Three Men in a Boat, you might like Stella Gibbons's Cold Comfort Farm, also available in Penguin Classics.
Information
Format: Paperback
Pages: 176 pages
Publisher: Penguin Books Ltd
Publication Date: 02/03/2004
Category: Classic fiction (pre c 1945)
ISBN: 9780141441214
Other Formats
CD-Audio from £10.99
Paperback from £3.65
Mixed media product from £13.20
Free Home Delivery
on all orders
Pick up orders
from local bookshops
Reviews
Showing 1 - 5 of 6 reviews.
Previous | Next
Review by Eyejaybee
16/06/2015
It must be more than thirty years since I first read this novel and it seemed even funnier this time, even though I knew what was coming. (The first time I read it was at school as a set book, with all the concomitant resentment that that can often impart). Written with a beautiful simplicity and lucidity it was a real joy to read.Having been a devoted adherent of P. G. Wodehouse since my first reading of this I could see clear traces of Bertie Wooster in the narrator's apparent ingenuousness. The striking inevitability of the mishaps that befall the doughty travellers does nothing to detract from their hilarity. But I reckon our Widmerpool could take Montmerency any day!
Review by stefano
16/06/2015
A delightful book full of very gentle humor from a different age (when it seemed to be possible to be genuinely funny without putting anyone/anything down). The description of the Thames' banks and locks were so delightful that I ended up following the entire trip on Google Maps.
Review by Cecilturtle
16/06/2015
Jerome takes us on a quaint little adventure through the British countryside. This book is lovely as it describes tongue-in-cheek the sites of the Thames as well as the historical trivia of various villages. From a modern perspective, it also gives interesting insight on the mores and habits of the day (most specifically young men!).Humour is always tricky: what will make some laugh will puzzle another. Whereas I found the comedy funny at first, I became bored with it later on: the same mechanisms were always at work, namely exaggeration, and it became tiresome. Although this book is short, I would have enjoyed it yet shorter or with a bit more variety.
Review by sturlington
16/06/2015
A quick, light read, this is a humorous account of a trip down the Thames. It is quite often laugh-out-loud funny, with a few striking insights sprinkled throughout, but there is absolutely no plot, and as it was published in the late Victorian era, it is now somewhat dated. Worth reading, though, particularly to judge how later books were influenced by it.
Review by Helenliz
16/06/2015
 A real sparkling little book. Almost laugh out loud funny in places while still being very believable. Surely the original in the road trip genre, even if the road's a river.