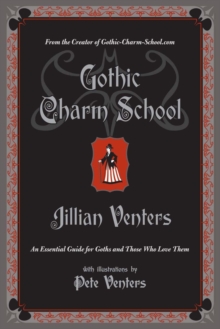 Gothic Charm School: An Essential Guide For Goths and Those Who Love Them
Paperback
Description
Goth has become a permanent fixture in mainstream culture, but there are a lot of misconceptions about the people who choose to embrace the lifestyle. "Gothic Charm School" is the ultimate, fully-illustrated handbook for day-to-day Gothic living and an 'insider's look' at the subcluture for people who are curious about, but not necessarily part of the subculture.
Jillian Venters, aka 'The Lady of the Manners', was a fairly spooky and morbid child, with parents who never objected to her eccentric taste in clothing.
Her father raised her to be his revenge upon the universe, while her mother rolled her eyes a lot and frequently had an air of amused patience.
When the Lady of the Manners discovered the existence of the whole Gothic subculture, she clapped her hands with glee.
Eventually the Lady of the Manners came to realise that excellent clothes were not, contrary to popular opinion, a substitute for excellent manners, and that being a Black-Clad-Freak didn't have to mean being depressed and snarly. (Witty, sarcastic, and possibly a touch cynical, yes.
Mean-spirited, sullen, and rude, no.)Since then, the Lady of the Manners has spent a not-inconsiderable amount of time trying to gently persuade others in her chosen subculture that being Goth and being polite is much, much more subversive than just wearing black t-shirts with 'edgy' sayings on them.
Information
Format: Paperback
Pages: 256 pages
Publisher: HarperCollins Publishers Inc
Publication Date: 15/06/2009
Category: Fashion & society
ISBN: 9780061669163
Free Home Delivery
on all orders
Pick up orders
from local bookshops
Reviews
Showing 1 - 1 of 1 reviews.
Review by Lila_Lockhart
16/06/2015
Honestly, I'm a little surprised that some people consider the tone of this book to be snarky. I think quite the opposite - Jillian comes across as a warm, bubbly lady who wishes to inform both goths and non-goths alike about the culture. While there is certainly an emphasis on the importance of etiquette (perhaps a bit too much), it is an important message to be sending; for anyone, not just the darkly inclined. This book, in my eyes, conveys a love for Goth and Gothlings. Furthermore, it touches on important points for anyone with an association to the culture. Is it perfect? No, nothing is. But it carries with it the same charm that is presented in the title. I would recommend this to anyone involved in or wanting to know more about the goth subculture.