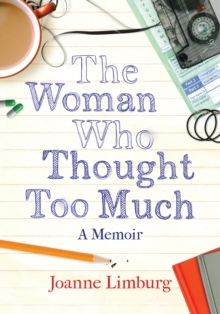 The Woman Who Thought Too Much : A Memoir
Hardback
Description
Joanne Limburg is a woman who thinks things she doesn't want to think, and who does things she doesn't want to do.
As a small child, she would chew her hair all day and lie awake at night wondering if heaven had a ceiling; a few years later, when she should have been doing her homework, she was pacing her bedroom, agonising about the unfairness of life as a woman, and the shortness of her legs.
By the time she was an adult, obsessive thoughts and compulsive behaviours had come to dominate her life.
She knew that something was wrong with her, but it would take many years before she understood what that something was. The Woman Who Thought Too Much follows Limburg's quest to understand her Obsessive- Compulsive Disorder and to manage her symptoms.
She takes the reader on a journey through consulting rooms, libraries and internet sites, as she learns about rumination, scrupulosity, avoidance, thought-action fusion, fixed-action patterns, anal fixations, schemas, basal ganglia, tics and synapses.
Meanwhile, she does her best to come to terms with an illness which turns out to be common and even - sometimes - treatable. This vividly honest memoir is a sometimes shocking, often humorous revelation of what it is like to live with so debilitating a condition.
It is also an exploration of the inner world of a poet and an intense evocation of the persistence and courage of the human spirit in the face of mental illness.
Information
Format: Hardback
Pages: 336 pages, Illustrations
Publisher: Atlantic Books
Publication Date: 01/04/2010
Category: Memoirs
ISBN: 9781843547020
Free Home Delivery
on all orders
Pick up orders
from local bookshops
Reviews
Showing 1 - 1 of 1 reviews.
Review by Libra500
16/06/2015
A well-pitched account of living and growing whilst suffering from mental health problems.I don't normally read biographies, but a review of this book in the Guardian caught my interest, as I though 'I identify with that!'. After reading this book, I'm quite relieved to be able to say that I don't have the same OCD as the author, altough I can empathise with a lot of her thoughts. It made me wonder if OCD is a 'spectrum' disorder, as autism is sometimes thought of, but this book isn't about to tell anybody wether that might be true or not. As a memoir it is concerned with Joanne Limburg's experience and does not tell you what is the definitive cause or treatment for this disorder. What it does do is give insights into what it is actually ilke to suffer, and does so in such a way that it is a pleasure to read (the author is a poet). even when she is writing about distressing things it is never painful (well almost never), and her humanity comes through beautifully.