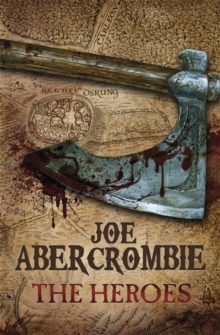 Description
They say Black Dow's killed more men than winter, and clawed his way to the throne of the North up a hill of skulls.
The King of the Union, ever a jealous neighbour, is not about to stand smiling by while he claws his way any higher.
The orders have been given and the armies are toiling through the northern mud. Thousands of men are converging on a forgotten ring of stones, on a worthless hill, in an unimportant valley, and they've brought a lot of sharpened metal with them.
Bremer dan Gorst, disgraced master swordsman, has sworn to reclaim his stolen honour on the battlefield. Obsessed with redemption and addicted to violence, he's far past caring how much blood gets spilled in the attempt.
Even if it's his own. Prince Calder isn't interested in honour, and still less in getting himself killed.
All he wants is power, and he'll tell any lie, use any trick, and betray any friend to get it.
Just as long as he doesn't have to fight for it himself. Curnden Craw, the last honest man in the North, has gained nothing from a life of warfare but swollen knees and frayed nerves. He hardly even cares who wins any more, he just wants to do the right thing. But can he even tell what that is with the world burning down around him? Over three bloody days of battle, the fate of the North will be decided.
But with both sides riddled by intrigues, follies, feuds and petty jealousies, it is unlikely to be the noblest hearts, or even the strongest arms that prevail. Three men. One battle. No Heroes.
Information
Format: Hardback
Pages: 512 pages
Publisher: Orion Publishing Co
Publication Date: 02/10/2010
Category: Science fiction
ISBN: 9780575083837
Free Home Delivery
on all orders
Pick up orders
from local bookshops
Reviews
Showing 1 - 2 of 2 reviews.
Review by DRFP
16/06/2015
The Heroes should firmly establish Abercrombie as one of the leading authors in modern fantasy. Arguably, in this reviewer's opinion (with his lukewarm feelings toward Malazan and with the continued inability of GRRM to move on with A Song of Ice and Fire), he is perhaps the best in the genre right now. Maybe, maybe not; but Abercrombie's fifth book certainly does nothing to harm his already strong reputation.The Heroes is dark and gritty, even by the author's own standards. The environment, the characters and the events are all bleak. Imagine the Black Company dug in for a three day battle minus the comic relief of Goblin and One Eye, plus a big dollop of Malazan cynicism and you'll get a feeling for the atmosphere surrounding the events of this book. Abercrombie slightly over does his rubbishing of heroism on the battlefield - every other chapter does not require characters to reflect on the nature of being a hero - but through smart characters, especially Gorst, the author tackles the issue convincingly. Although in a way it's disappointing that the more strongly established characters (Shivers, the Dogman, Bayaz) are sideshows in this novel credit is due to Abercrombie for creating new characters or developing older, previously less important ones. The whole gamut of Gorst, Calder, Curnden Craw down to Felnigg and Stranger-Come-Knocking are a wide range of varied and well written characters. Abercrombie's writing is as good as ever too. It perhaps lacks a bit of the sparkle present in BSC but only because the tone is so unrelentingly grim (though the gallows humour present throughout does alleviate things).There are a couple of downsides to the novel though. One is minor - simply, haven't we been here before? Union soldiers fighting a bungling campaign in the North against hardy but numerically inferior opposition - does that sound familiar? The circumstances are different to what we saw in the First Law trilogy but it's a shame that, after turning to Styria in BSC, the author has returned to another Union versus Northmen conflict in this novel. Abercrombie's North is a great setting but we've seen plenty of it already. I still eagerly await the time (hopefully) that we get to see the Gurkish and southern lands in more depth. The second, and greater, issue I have with The Heroes is that events never feel significant enough - very little really seems to be riding on the battle. Of course the personal events are the real focus of the story; but the lack of any impact on the big picture strips away a layer of suspense. The First Law trilogy was so excellent because it managed to blend personal tales with an important international struggle. The Heroes never really demonstrates why winning or losing the battle would be significant to either side. Perhaps the futility of war is one of Abercrombie's points but if so it's handled in a way that makes reading this novel less exciting than it should be.Yet it's tough for Joe Abercrombie. He set himself an extremely high standard with his first trilogy of novels. The Heroes is a very good read but, along with all the above, it never feels quite as fresh and genre-subverting as the First Law books. This is a very good story of a messy battle and some of its participants, but it feels as if that's all it is. Abercrombie pulls some surprises out near the end but still the story doesn't feel as interesting as any of the First Law novels (although I would consider this superior to BSC).Perhaps that's because it feels like a holding book, something to tie us over until the next stage of Bayaz's war with the Gurkish takes off? The Union has already moved on and with Logen and Glokta having been kept away from the reader for these last two books the time seems ripe for their return. The Heroes is another excellent book from Abercrombie; it's not perfect and not his best, but it does a hell of a lot right and still has me eagerly awaiting the next novel from this world.
Review by Shirezu
16/06/2015
I'm not quite sure how to take this one. I was looking forward to going back to the First Law universe but apart from a few references, like Logen, this could have taken place in any universe. The backstory of the Dogman, Black Dow, Bayaz, The Union, etc. wasn't ever needed, which is lucky as I can't really remember a lot of it.<br/><br/>Basically this is just a story about a battle. The main and final battle of a war. And while it was rich and detailed with lots of intriguing plot lines running through it, intersecting, there always felt like something was missing. That boost to push it up from a good book to a great one. For a fantasy book there's very little fantasy going on in this one. Apart from Ishri this could have been the story of a middle ages battle between the Romans and the Celts. <br/><br/>I await the next Abercrombie book but if it goes down this same path to nowhere I think it may be my last Abercrombie book.