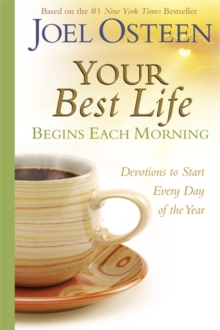 Your Best Life Begins Each Morning : Devotions to Start Every New Day of the Year
Hardback
Description
The potential to live your best life starts with each new morning, says bestselling author Joel Osteen.
With every sunrise, you can choose to approach the day with an attitude of faith and expectancy. He writes, 'When you get up in the morning, the first thing you should do is set your mind in the right direction ...and then go out anticipating good things.'Now for the first time, Pastor Osteen offers a tool to accomplish that goal. Based on his book, YOUR BEST LIFE NOW, he offers prescriptions for positive living in 365 daily messages. Each message is accompanied by a relevant scripture.
Free Home Delivery
on all orders
Pick up orders
from local bookshops
Reviews
Showing 1 - 3 of 3 reviews.
Review by smilingsally
16/06/2015
Have you ever decided to begin daily devotions only to fall behind because you just cannot seem to find the time? Here's your guide! This tiny 4" x 6" palm-sized book contains devotions in a workable size. It will easily fit into a purse, a briefcase, or an office desk. The softly padded cover is a touch of luxury, and the book ribbon permanently attached will easily keep the reader's place.An entire year is included in this 365-page volume. Each page is dated and begins with a Bible verse, followed by the author's thoughts. The entire devotion is confined in one page. For the person who wants to have daily devotions, but who does not have a big block of time to do them, this is ideal.
Review by wbarker
16/06/2015
Perfect for : Personal Use, Great giftIn a nutshell: This is a wonderful book for daily use, that helps to start the day on a positive/inspiring note with biblical inspiration. It is small, about 6 inches tall, 4 inches wide and about 1 inch thick - it will fit great in a purse, glove box, desk drawer, etc, just put it somewhere so you can read it every morning. There is an inspirational thought and bible verse for each day of the year, and each one takes only a minute or two to read, but will help you stay inspired all day! This would be a great gift for any religious friend or relative you want to provide encouragement to.Extended Review:Content: I've taken the time to read ahead in the book so I could do a better review. I love the different ways I am encouraged each morning, revisiting my hopes and dreams (Jan. 1), looking at where you want to be in the future (Jan. 26th), "Dare to be Happy" with who you are (April 17th), etc. I've provided a few themes that are supported by scripture and examples, along with a great thought for the day.Format: The book is very easy to follow - there is a short introduction, then a page for each day that includes: the date, a title theme, a scripture supporting the theme, and a story or example that ends with a type of thoughtful reflection for the day. The book has a section for notes at the end, and a built-in ribbon bookmark to help you easily find the next day.Readability: Wonderfully easy to read, with a consistent format.Overall: A great way to start the day! And it only requires a few minutes to read (maybe less?), and you will gain insight into yourself and great thoughts to take you through the day.
Review by KellyBlackwell
16/06/2015
What a wonderful way to kickstart your morning! I have never read a Joel Osteen book, but I had read an interview with him a while back and this book immediately called to me. I love a devotion, but sometimes I just do not have the time to dig in like I should. Figuring out when to read can be the challenge for me. Your Best Life Begins Each Morning is the perfect size for a morning meet with your Lord. The verses are appropriate to moving you into a positive walk every morning. I found myself focusing on each verse and message throughout the day. The devotional days are mapped out for the whole year, and it looks like it is going to be one excellent year! I definitely recommend Joel Osteen's Your Best Life Begins Each Morning. It is a brief read that goes right to the heart.