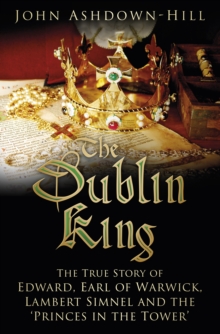 The Dublin King : The True Story of Edward Earl of Warwick, Lambert Simnel and the 'Princes in the Tower'
Hardback
Description
A year after Richard III's death, a boy claiming to be a Yorkist prince appeared as if from nowhere, claiming to be Richard III's heir and the rightful King of England.
In 1487, in a unique ceremony, this boy was crowned in Dublin Cathedral, despite the Tudor government insisting that his real name was Lambert Simnel and that he was a mere pretender to the throne.
Now, in The Dublin King, author and historian John Ashdown-Hill questions that official view.
Using new discoveries, little-known evidence and insight, he seeks the truth behind the 500-year-old story of the boy-king crowned in Dublin.
He also presents a link between Lambert Simnel's story and that of George, Duke of Clarence, the brother of Richard III.
On the way, the book sheds new light on the fate of the 'Princes in the Tower', before raising the possibility of using DNA to clarify the identity of key characters in the story and their relationships.
Information
Format: Hardback
Pages: 224 pages, 32 black & white illustrations, 16 colour plates
Publisher: The History Press Ltd
Publication Date: 05/01/2015
Category: Biography: royalty
ISBN: 9780750960342
Free Home Delivery
on all orders
Pick up orders
from local bookshops
Reviews
Showing 1 - 1 of 1 reviews.
Review by jcbrunner
27/08/2015
John Ashdown-Hill performed much of the research legwork necessary to find and identify King Richard III. He is a Ricardian partisan with a life mission to restore the sullied reputation of the much maligned king. So, even though this book is nominally about the true identity of the Yorkist pretenders trying to unseat Henry VII, it includes a heavy dosage of Ricardian apologetics. John Ashdown-Hill loves to approach the issue in a legalistic way (and often finds good arguments) - unfortunately, kingship is about politics: Might often makes right. As others have painfully discovered, those in power are most often unwilling to share their power solely based on some claim (otherwise August Sutter would have owned a good part of New Helvetia aka California). If the English parliament made Richard III's rule legal, the same could as easily make it illegal if the political situation changed, a good motive for Richard III to have the two princes in the Tower disappear (even though one, as Ashdown-Hill claims, might have died from neglect/disease instead of being outright murdered).Anyway, this book is about the crazy aftermath of Richard's defeat and death. Henry VII's rule was challenged by a series of weak young pretenders of Lambert Simmel and Perkin Warbeck. Why did the Yorkist use these two poor choices as figureheads instead of the much more energetic and de facto heir to Richard, John de la Pole, Earl of Lincoln? Ashdown-Hill meticulously assembles case files for the potential identification of who exactly could have been the person crowned in Dublin as "King Edward VI" in 1487. While the cases remain inconclusive, the issue is futile as the Yorkists lacked the political support to unseat Henry VII. The battle of Stoke was a pathetic affair and the de la Poles weak challengers to Henry VII. The Yorkists always had a self-destructive vein eroding their political support and triggering their own downfall. Had it not been for Shakespeare's ingenious portrait of Richard III, he would be as forgotten by the public as his brother Edward IV.