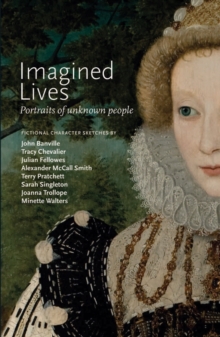 Imagined Lives : Portraits of Unknown People
Paperback
Description
In 'Rosy', Tracy Chevalier writes of a handsome young man with a flushed complexion as the object of homosexual desire.
Minette Walters writes a poignant letter from a despairing wife.
Alexander McCall Smith tells of merchant's daughter engaged as a body double for Mary, Queen of Scots.
Julian Fellowes has created a biography of a resourceful woman whose husband was executed during Henry VIII's reign.
Sarah Singleton relates the adventures of a spice merchant and amateur musician struggling to make his way in the world, despite his illegitimate status.
Joanna Trollope tells a touching tale about a marriage proposal told in the form of a letter from the sitter's intended bride.
By contrast, the fantasy writer Terry Pratchett has written an amusing tale about an explorer who presented Elizabeth I with a skunk. And John Banville has seen, in the features of a man on his deathbed, the face of an admired officer serving with Cromwell's New Model Army.
These short, fictional narratives build brilliantly on what can be seen in each portrait, thereby providing a new and entertaining way of looking at these intriguing images.
Information
Format: Paperback
Pages: 96 pages, 13
Publisher: National Portrait Gallery Publications
Publication Date: 12/01/2011
Category: Portraits in art
ISBN: 9781855144552
Free Home Delivery
on all orders
Pick up orders
from local bookshops
Reviews
Showing 1 - 1 of 1 reviews.
Review by Cariola
16/06/2015
This clever little gem has found a special place on my bookshelf next to another, Helen Humphreys's <i>The Frozen Thames</i>. Published by the National Portrait Gallery in London, <i>Imagined Lives</i> is a collection of fourteen 'biographical' sketches based on sixteenth- and seventeenth-century portraits of unknown sitters. Eight well-known writers contributed to the book: John Banville, Tracy Chevalier, Julian Fellowes, Alexander McCall Smith, Terry Pratchett, Sarah Singleton, Joanna Trollope, and Minette Walters. Each has given the portrait sitter a name, and the sketches take the form of biographical entries, letters, and internal dialogues. One imagines the sitter critiquing his own newly-finished portrait. In another (my favorite), a young woman writes to her mother, asking for advice on a proposal from the man in the portrait. Tracy Chevalier's subject, an aging woman, muses on why she agreed to be drawn and on the passing of her years.The book includes full color copies of the portraits plus a closeup of a significant detail in each. At the back you'll find a fine essay on how sitters in historic portraits are identified, using as models known portraits of Robert Devereux, Earl of Essex, Mary, Queen of Scots, Anne Boleyn, and Michael Drayton. Details of each portrait's provenance, media, and dimensions are provided, along with a brief history of former identifications.This is a lovely book, the kind to reach for in quiet moments or to take you away from the not-so-quiet.