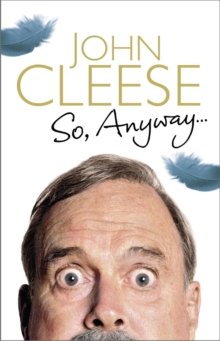 Description
Candid and brilliantly funny, this is the story of how a tall, shy youth from Weston-super-Mare went on to become a self-confessed legend.
En route, John Cleese describes his nerve-racking first public appearance, at St Peter's Preparatory School at the age of eight and five-sixths; his endlessly peripatetic home life with parents who seemed incapable of staying in any house for longer than six months; his first experiences in the world of work as a teacher who knew nothing about the subjects he was expected to teach; his hamster-owning days at Cambridge; and his first encounter with the man who would be his writing partner for over two decades, Graham Chapman. And so on to his dizzying ascent via scriptwriting for Peter Sellers, David Frost, Marty Feldman and others to the heights of Monty Python.
Punctuated from time to time with John Cleese's thoughts on topics as diverse as the nature of comedy, the relative merits of cricket and waterskiing, and the importance of knowing the dates of all the kings and queens of England, this is a masterly performance by a former schoolmaster.
Free Home Delivery
on all orders
Pick up orders
from local bookshops
Reviews
Showing 1 - 1 of 1 reviews.
Review by Keith.G.Richie
27/08/2015
I have watched John Cleese be funny for most of my life. I discovered Monty Python as a teenager in the '70s, when PBS was running episodes for US audiences. I fell in love with the show, and with their movies (Holy Grail, The Meaning of Life, and Life of Brian are among the funniest films ever).<br/><br/>From the first pages of Cleese's autobiography, I was in. No one else could have written this book - it's so clearly and deeply in Cleese's voice from beginning to end. Cleese almost always makes me laugh, and I did so here right to the last chapter. <br/><br/>Cleese has gotten some rough press in recent years - the fights with his old Python fellows are not pretty, and his political and personal views sometimes create unfortunate headlines. But this book is not that. It's the Cleese I grew up laughing at and with. I hope he plans to write more.<br/><br/>Unless you are employed by The Daily Mail, I suspect you will love this book.