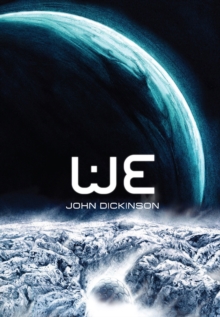 Description
We are the only Humans left...In the furthest, coldest, darkest reaches of our solar system, Paul Munro is on a mission from which he can never return.
A desolate ice-covered moon will be his home for the rest of his life. And only from here can he see what humanity has become.
A thriller to freeze your blood. To absolute zero.
Information
Format: Paperback
Pages: 304 pages
Publisher: Random House Children's Publishers UK
Publication Date: 07/01/2010
Category: Science fiction
ISBN: 9780385617895
Free Home Delivery
on all orders
Pick up orders
from local bookshops
Reviews
Showing 1 - 4 of 4 reviews.
Review by RefPenny
16/06/2015
This is a science fiction story featuring Paul Munro, a communications specialist who is sent to a base on a far distant moon to discover why some communications have been disrupted. The WE of the title is the 'World Ear' an implanted device that allows people constant virtual access to the Internet without needing a computer. Paul has to have his WE removed before journeying 8 years to the base and the initial chapters dealing with his adjustment to life without it are excellent. However I felt that the rest of the book, although interesting, didn't quite live up to the promise of the first few chapters. This is a challenging read suitable for older teens and adults.
Review by The_Librain
16/06/2015
Finished this book in one sitting. A very interesting idea - the WE is the World Ear. Everyone on Earth has an implant that links them up to an advanced version of the social web. The main character, Paul, is removed from the WE and sent out into space to live on a remote moon at the edge of the Solar System. In the early part of the book, he has to adjust to the shock of living without access to the social network and also to life with only three other people in a very inhospitable enviroment. It becomes clear that humans on Earth are evolving into something that cannot exist easily without the World Ear - all of their interactions and decisions are governed by it - they have even lost the need to speak. I would be interested to see what our students will make of this book - after all, they have grown up with a social network unlike me, as an adult.
Review by Bellydancer
16/06/2015
Paul Munro has been sent to live at the darkest reaches of the solar system. Sent to live with three others, sent to live in a man-made space station. On his arrival he finds that he has been travelling for 8 years, and that he as been disconnected to the World Ear (WE). His mission is to find out why the communications to and from the space station are being corrupted. But in doing this could he be sending himself and the other to their ultimate death.Not being a Sci-fi fan I found this book to be hard going. It lacked the promised 'a thriller to freeze your blood' and the ending was a disappointment. But it had a well written flow, with language and descriptions that a non sic-fi chick could understand. Best suited to older teens and adults.
Review by MyopicBookworm
16/06/2015
When starting an SF novel, I think it a good sign if the first chapter is so well imagined and well written that it could stand alone as a short story. Obviously it can't continue at that level of density, but the experience of a man suddenly removed from the ever-present and almost omniscient World Ear network is arrestingly told. He then has to come to terms with the claustrophobic world of a remote base with only four inhabitants, and a mysterious influence which corrupts their radio signals to Earth. Is his predecessor as telemetry expert really dead?And why would Earth bother to have a manned station on the moon of a gas giant so remote that it takes eight years to travel there, and adaptation so dramatic that the researchers can never hope to return? I asked this question early in my reading: Paul Munro, dutiful servant of the World Ear, doesn't think to consider it until further through the book, and the answer is bound up with the developing ideas in this subtle novel, which questions the nature of human choice and the future social effect of world-encompassing information networks. If the Internet became sentient, what would it do next? How would you feel if you had been left out, or worse, cut out after being a part of it?There are moments when the pace falters, and the ending is a little low-key, but not unreasonably so, given the scenario, and on the whole I think this is an excellent book.MB 3-ii-2011