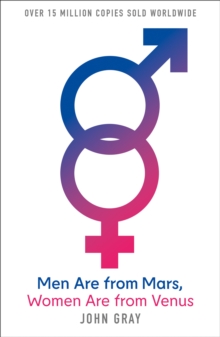 Men Are From Mars, Women Are From Venus [Thorsons Classics edition]
Paperback
Description
The legendary relationships guide that mothers recommend to their daughters, friends give as gifts and brothers steal from their sisters, MEN ARE FROM MARS AND WOMEN ARE FROM VENUS is inarguably the definitive book on having a happy relationship. 'A treasure', 'a bible' and 'an heirloom' are some of the words used to describe the book that has saved countless relationships and improved innumerable others.
Now repackaged to relate to a new generation of readers, this phenomenal book continues to carry its legacy of understanding and trust into the world.
Since its first publication, over a staggering 15 million copies of MEN ARE FROM MARS, WOMEN ARE FROM VENUS have sold globally to single men and women looking for guidance on how to find the perfect partner, married couples seeking to strengthen their bond, and divorcees hoping to fathom where it all went wrong.
Gray's insights into how to allow your other half to "pull away" like an elastic band, prevent your emotional baggage from polluting your current relationship, and translate the phrases of the opposite sex are as relevant now as when they were first published. With straightforward, honest writing from that precious male perspective, Gray unlocks the secrets hidden in your partner's words and actions to enable you both to reach true mutual understanding and a lifetime of love.
Discover for yourself why thousands believe that MEN ARE FROM MARS, WOMEN ARE FROM VENUS should be mandatory reading for everyone.
Information
Format: Paperback
Pages: 320 pages
Publisher: HarperCollins Publishers
Publication Date: 04/11/2002
ISBN: 9780007152599
Free Home Delivery
on all orders
Pick up orders
from local bookshops
Reviews
Showing 1 - 4 of 4 reviews.
Review by Amzzz
16/06/2015
Some useful truths, but boring to read in parts.
Review by Katie_H
16/06/2015
This isn't my preferred genre, but since my Mom gave it to me, I figured I'd give it a try. After having been together for 8 years now, DH and I have already figured out most of this stuff on our own, so I didn't really learn anything new. The basics are this... When communicating, women seek empathy, and men seek advice. Men do not discuss problems unless they feel that they are unable to cope alone, and they do not want advice if they haven't asked for it. Women don't want advice, and they don't want their problems fixed, they merely want to be heard and understood. The author also discusses the concept of a man's "cave," an emotional place where he can retreat as necessary, later emerging with newfound energy and stability. The generalizations are bothersome, since not all men and women exhibit the same characteristics and coping mechanisms, but in our situation, they DO hold true. The excessive Mars and Venus metaphors also get a bit irritating as did the repetition, but overall, I could see this book helping some relationships, even though I did not get much out of it.
Review by Eruntane
16/06/2015
This isn't a book I ever expected to find myself reading, but it was recommended to me as good preparation for marriage by someone whose judgement I trust, so I decided to give it a go. In terms of literary merit, it isn't terribly well-written, and has an irritating tendency to say the same thing over and over and over again. In terms of content, however, it's spot on, and full of helpful suggestions for improving communication between yourself and your partner, thus making your whole relationship better. A must-read for anyone who just doesn't get what makes the opposite sex tick.
Review by twiglet12
16/06/2015
At the time of reading, well skimming, I actually found this interesting and entertaining and it has led to some pretty animated discussions down the pub. Wouldn't say it changed my life or that I follow it to the letter.