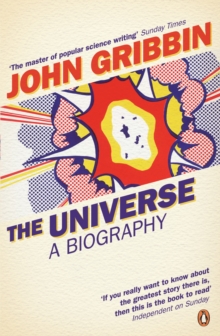 Description
John Gribbin's The Universe: A Biography explores the story of our cosmos, from the mystery of its origins to how scientists think it might end. * How did the universe grow from a tiny fireball to its present size?* Where did life on earth come from? * How do planets form? * How will the universe end? * And how do we even know all this anyway? John Gribbin, one of Britain's most popular writers about science and the people who made it happen, has decided to create a biography of the greatest subject of all: the universe itself, from beginning to end (and beyond).
From the Big Bang 14 billion years ago, the formation of stars and galaxies and the first stirrings of life, to the latest thinking on dark matter and a theory of everything - and beyond to the future possibility of a Big Crunch or a Big Rip - this is the life history of the entire world around us. 'If you really want to know about the greatest story there is, then this is the book to read' Independent on Sunday 'As clear an account of current thinking on the subject as we are likely to get' Daily Telegraph 'One of Britain's best and most prolific science writers' Sunday Telegraph 'The master of popular science writing' Sunday Times John Gribbin is one of today's greatest writers of popular science and the author of bestselling books, including In Search of Schrodinger's Cat, Stardust, Science: A History and In Search of the Multiverse.
Gribbin trained as an astrophysicist at Cambridge University and is currently Visiting Fellow in Astronomy at the University of Sussex.
Information
Format: Paperback
Pages: 256 pages
Publisher: Penguin Books Ltd
Publication Date: 31/01/2008
Category: Popular science
ISBN: 9780141021478
Other Formats
Hardback from £12.45
Paperback from £6.59
EPUB from £5.49
PDF from £14.22
Free Home Delivery
on all orders
Pick up orders
from local bookshops
Reviews
Showing 1 - 2 of 2 reviews.
Review by psiloiordinary
16/06/2015
Another cracking book by Gribbin. He really does churn out quality time after time.This book is a whistle-stop tour, a quick biography of our universe. I really enjoyed the "how do we know the things we think we know?" chapter and also his careful distinction between what we think we KNOW and what we THINK we know.Accessible, informative and entertaining. Helpful glossary.Recommended.
Review by stuster
16/06/2015
An interesting and mostly understandable account of the the universe's physical phenomena over the course of its life from birth to present, covering the very small to the very large. The writing is not particularly vivid or inspiring, and the writer does not sufficiently bring to life what is largely a lifeless topic. The most interesting parts were those at the end dealing with the origins of the life and the evidence for organic molecules in space. Nevertheless, it is a worthwhile read to gain a grasp of current knowledge in particle and astrophysics, without being mind blowing.