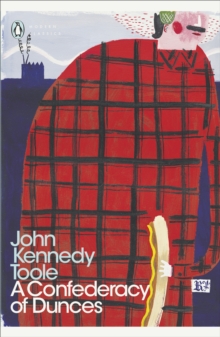 A Confederacy Of Dunces,
Paperback
Description
John Kennedy Toole's hilarious satire, A Confederacy of Dunces is a Don Quixote for the modern age, and this Penguin Modern Classics edition includes a foreword by Walker Percy. Never published during his lifetime, John Kennedy Toole's masterful comic novel takes its title, as well asfrom Jonathan Swift A monument to sloth, rant and contempt, a behemoth of fat, flatulence and furious suspicion of anything modern - this is Ignatius J.
Reilly of New Orleans, noble crusader against a world of dunces.
The ordinary folk of New Orleans seem to think he is unhinged.
Ignatius ignores them, heaving his vast bulk through the city's fleshpots in a noble crusade against vice, modernity and ignorance.
But his momma has a nasty surprise in store for him: Ignatius must get a job.
Undaunted, he uses his new-found employment to further his mission - and now he has a pirate costume and a hot-dog cart to do it with...John Kennedy Toole (1937-1969) was born in New Orleans.
He received a master's degree in English from Columbia University and taught at Hunter College and at the University of Southwestern Louisiana. He wrote A Confederacy of Dunces in the early sixties and tried unsuccessfully to get the novel published; depressed, at least in part by his failure to place the book, he committed suicide in 1969.
It was only through the tenacity of his mother that her son's book was eventually published and found the audience it deserved, winning the 1981 Pulitzer Prize for Fiction.
His long-suppressed novel The Neon Bible, written when he was only sixteen, was eventually published as well. If you enjoyed A Confederacy of Dunces, you might like Kingsley Amis's Lucky Jim, also available in Penguin Modern Classics. 'A pungent work of slapstick, satire and intellectual incongruities ...it is nothing less than a grand comic fugue' The New York Times
Information
Format: Paperback
Pages: 352 pages
Publisher: Penguin Books Ltd
Publication Date: 01/03/2000
ISBN: 9780141182865
Other Formats
Paperback from £7.65
Hardback from £11.25
eAudiobook MP3 from £19.28
Free Home Delivery
on all orders
Pick up orders
from local bookshops
Reviews
Showing 1 - 5 of 10 reviews.
Previous | Next
Review by ben_a
16/06/2015
Upon finishing this book, I immediately began to read it again.
Review by blackbelt.librarian
16/06/2015
One of the best books I've read in a long time...
Review by mariejelis
16/06/2015
This book is laugh-out-loud funny but very clever at the same time. The main character is a complete social mess yet he sounds like a talking Oxford dictionnary!
Review by Jim53
16/06/2015
There are already plenty of reviews of this book posted. I'll simply add that it's one of my all-time favorites. Toole did a marvelous job of depicting the city of New Orleans and of creating finely drawn secondary characters, of whom my favorite is Burma Jones. But his great accomplishment is Ignatius himself, one of the great characters in recent literature.
Review by littlegeek
16/06/2015
Fabulous and funny. Amazing characters. And sad, once you know about the author's suicide.The only thing that bothers me about it is the misogyny. Every major male character has some unappealing woman who is holding him down. (Ignatius has his mom, Mr. Levy his wife, Jones his boss.) I want to give him a pass on this because it was written before the women's movement got going, but it was rather glaring. I do like how Ignatius is rescued by Myrna in the end. I just kept thinking about Toole's mom spending years & years trying to get her son's book published after his death, despite how badly mothers come off in it. Mrs. Toole deserves our undying gratitude and respect.