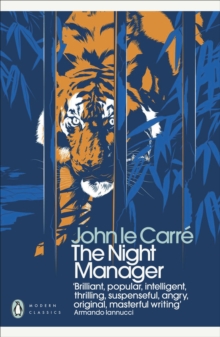 The Night Manager: Design by Coralie Bickford-Smith,
Paperback
Description
In The Night Manager, John le Carre's first post-Cold War novel, an ex-soldier helps British Intelligence penetrate the secret world of ruthless arms dealers. 'Le Carre is the equal of any novelist now writing in English' Guardian 'A marvellously observed relentless tale' Observer At the start of it all, Jonathan Pine is merely the night manager at a luxury hotel.
But when a single attempt to pass on information to the British authorities - about an international businessman at the hotel with suspicious dealings - backfires terribly, and people close to Pine begin to die, he commits himself to a battle against powerful forces he cannot begin to imagine. In a chilling tale of corrupt intelligence agencies, billion-dollar price tags and the truth of the brutal arms trade, John le Carre creates a claustrophobic world in which no one can be trusted. 'Complex and intense ...page-turning tension' San Francisco Chronicle 'When I was under house arrest I was helped by the books of John le Carre ...they were a journey into the wider world ...These were the journeys that made me feel that I was not really cut off from the rest of humankind' Aung San Suu Kyi 'One of those writers who will be read a century from now' Robert Harris 'He can communicate emotion, from sweating fear to despairing love, with terse and compassionate conviction' Sunday Times (on The Spy Who Came in from the Cold) 'Return of the master . ..Having plumbed the devious depths of the Cold War, le Carre has done it again for our nasty new age' The Times (on Our Kind of Traitor)
Information
Format: Paperback
Pages: 480 pages
Publisher: Penguin Books Ltd
Publication Date: 07/11/2013
Category: Espionage & spy thriller
ISBN: 9780141393018
Free Home Delivery
on all orders
Pick up orders
from local bookshops
Reviews
Showing 1 - 1 of 1 reviews.
Review by Widsith
27/08/2015
A slinky international thriller about post-Cold War geopolitics, crammed full of damaged antiheroes, corrupt politicians, worn-out spies, megarich drug-runners and frustratingly vulnerable women. It opens in Zurich and rapidly expands to take in detailed sketches of Quebec, the Bahamas, Miami, the Netherlands, Central America and Cornwall – so that there is a kind of travelogue element to the action, not unlike the feeling in those early Bond movies where audiences partly just wanted to see someone jetting around the world.This world is not the world of Bond, though, or indeed that of le Carré's own earlier works – it is much murkier and more chaotic. It is harder to see who the bad guys are, since so many of them seem to be doing business with the good guys: a lot of high-up people are very willing to make excuses.<i>'Not </i>bad<i> chaps, Rex. Mustn't be too critical. Just a bit marooned. No more Thatcher. No more Russian bear to fight, no more Reds under the bed at home. One day they've got the world all carved up for them, two legs good, four bad. Next day they get up in the morning, they're sort of – well – </i>you<i> know—' He finished his premise with a shrug. 'Well, nobody likes a vacuum, do they? Not even you like a vacuum. Well, do you? Be honest. You hate it.''By vacuum, you mean peace?' Goodhew suggested, not wishing in the least to sound censorious.</i>At the other end of the chain from the dodgy-dealing senators and ministers, you have the foot-soldiers of this new criminal economy – a growing multinational population of disaffected specialists.<i>American veterans sickened first by war and then by peace; Russian Spetsnaz, trained to guard a country that disappeared while their backs were turned; Frenchmen who still hated de Gaulle for giving away North Africa; the Israeli boy who had known nothing but war, and the Swiss boy who had known nothing but peace; the Englishmen in search of military nobility because their generation somehow missed the fun (if only we could have had a British Vietnam!), the huddle of introspective Germans torn between the guilt of war and its allure.</i>Attention here is on the forces of international law enforcement – those fighting arms and drugs trafficking, specifically – who have an uneasy, even adversarial, relationship with the 'espiocrats' of MI6 or the CIA who, in their view, are constantly asking them to turn 'a blind eye to some of the biggest crooks in the hemisphere for the sake of nebulous advantages elsewhere'.The prose is typically efficient and controlled. His political understanding is very deep, his dialogue is outstanding, and lightning portraits of new characters are a joy: one man has 'a face to play cards against and lose', while the main female lead, Jeds (a public-school abbreviation of Jemima), is characterised by her 'jeweled brilliance and a kind of dressed nakedness'.I love this line, but it's also a pointer to the rather limited role of women in the book: they are too sexualised and too disposable for my liking. Of course Jeds is the kind of young, hot arm-candy that very rich criminals really do keep around, and you could say her character is perfectly justified; but for me she wasn't balanced nearly enough by the rest of the female cast for me to feel able to enjoy it. I found this very disappointing – it's such a glaring hole in an otherwise masterful grip on characterisation.I saw an old interview with Ian McEwan in <i>The Telegraph</i> when I was looking this book up online, where he suggested le Carré was the most significant novelist of the second half of the twentieth century. 'Most writers I know think le Carré is no longer a spy writer. He should have won the Booker Prize a long time ago. It's time he won it and it's time he accepted it. He's in the first rank.' I love to see sentiments like that and I think it's great to see a lit-fic star talking about the qualities of a so-called genre writer. This book is more evidence of his many talents – read it quick, a TV adaptation is apparently on the way.