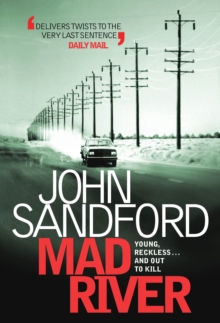 Description
Bonnie and Clyde, they thought. And what's-his-name, the sidekick. Three teenagers with dead-end lives, and chips on their shoulders, and guns.
The first person they killed was a highway patrolman.
The second was a woman during a robbery. Then, hell, why not keep on going? As their crime spree cuts a swath through rural Minnesota, some of it captured on the killers' cell phones and sent to a local television station, Bureau of Criminal Apprehension investigator Virgil Flowers joins the growing army of cops trying to run them down.
But even he doesn't realize what's about to happen next.
Information
Format: Hardback
Pages: 400 pages
Publisher: Simon & Schuster Ltd
Publication Date: 11/10/2012
Category: Thriller / suspense
ISBN: 9781471111655
Free Home Delivery
on all orders
Pick up orders
from local bookshops
Reviews
Showing 1 - 1 of 1 reviews.
Review by keenchris
16/06/2015
Another swell outing with that effing Flowers. Plot summary can be wrapped up short &amp; sweet: 3 young killers on a crime spree in Minnesota with much more to the story than just that! Good interaction between the kids &amp; Virgil that is interesting and reveals quite a bit about him as well as them. Sandford is still solid and the story swept along with only a few missteps. One weird phone call to his mom that had me scratching my head-does Virgil kiss his mom with that mouth? There was a closer look at Virgil's dad that sort of put Virgil into perspective. I enjoyed the fleshing out of their family back story a little bit. The main plot was good-choppy vignettes of violent action interspersed with humor here &amp; there. There are good cops, bad cops, hot chicks, beatings, sexual 'stuff', car chases, introspection and a nice plot device to look inside the killers' minds. Sandford writes like a slow moving train: you know where you're going with this engineer &amp; conductor but the weird scenery along the way is always changing! A couple of points that dropped my rating to 3:<spoiler>--SPOILER ALERT---I did kind of wonder what was up with the dropped plot point of the Vanity Fair article? Several months pass before the wrap up of the story so that's plenty of time to resolve it. Kind of strange the way it was set up, too. The Letty character is so strong and takes care of her own business but WEATHER is the one dragging her feet on the article? Or maybe it's Lucas-Sandford never gets into it and I thought that was odd. The other thing was the whole Ag/husband/brothers/tornado. At the end I was shaking my head WTHeck? I felt like Sandford had a really good idea for a story but it didn't fit a Davenport story, wasn't enough for a standalone book and really didn't match Virgil but with a little tweaking it could maybe-kind of-sort of-a little bit, fit into this book? ---end spoiler alert---</spoiler>Not a 4/5 star by any means but a decent 3 star way to pass a snowy day! Looking forward to the next one in the series.