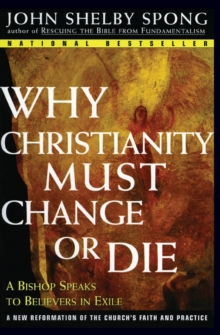 Why Christianity Must Change or Die : A Bishop Speaks to Believers In Exile
Paperback
Description
An important and respected voice for liberal American Christianity for the past twenty years, Bishop John Shelby Spong integrates his often controversial stands on the Bible, Jesus, theism, and morality into an intelligible creed that speaks to today's thinking Christian.
In this compelling and heartfelt book, he sounds a rousing call for a Christianity based on critical thought rather than blind faith, on love rather than judgment, and that focuses on life more than religion.
Information
Format: Paperback
Pages: 288 pages
Publisher: HarperCollins Publishers Inc
Publication Date: 09/04/1999
Category: Mind, Body, Spirit
ISBN: 9780060675363
Free Home Delivery
on all orders
Pick up orders
from local bookshops
Reviews
Showing 1 - 3 of 3 reviews.
Review by MarthaJeanne
16/06/2015
Like the fundamentalists Spong opposes, he takes Christian doctrine overly literally. Unlike Spong, I firmly believe that the traditional ways of speaking of God still have a lot to say to people today. A lot more than phrases such as 'the Ground of Being'. I would dare say that a church that moves in Spong's direction would find itself very empty.
The Christianity formulated in a 1st century desert is totally inadequate <br/>to life after two thousand years of progress in science and knowledge. Spong details the <br/>inadequacies of Christianity and its traditions.
Review by greeniezona
16/06/2015
William James would say that the reason I like Bishop Spong so much is that because he reconfirms all of my already existing prejudices. But this book rang like a revelation to me. At a time when I continued to be disillusioned with the Christian church, yet was beginning to despair that I would find anything else spiritual that would be truly meaningful to me, Bishop Spong opened a door and told me that it was okay to go back inside. That the fundamentalists don't own Christianity. That I could believe as I did and still call myself Christian. I've said before that without reading this book, I never could have married Andrew, that my whole life would have been different. And I still believe that to be true. I can't really explain how grateful I am that I found it.