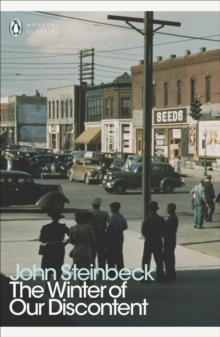 The Winter Of Our Discontent,
Paperback
Description
Ethan Allen Hawley has lost the acquisitive spirit of his wealthy and enterprising forebears, a long line of proud New England sea captains and Pilgrims.
Scarred by failure, Ethan works as a grocery clerk in a store his family once owned.
But his wife is restless and his teenage children troubled and hungry for the material comforts he cannot provide.
Then a series of unusual events reignites Ethan's ambition, and he is pitched on to a bold course, where all scruples are put aside.
Steinbeck's searing examination of the evil influences of money, immorality, greed and ambition on America drew acclaim from the Nobel Committee who hailed him as an 'independent expounder of the truth'. 'Returns to the high standards of The Grapes of Wrath and to the social themes that made his early work ...so powerful' Saul Bellow, author of Herzog
Information
Format: Paperback
Pages: 288 pages
Publisher: Penguin Books Ltd
Publication Date: 03/05/2001
ISBN: 9780141186313
Free Home Delivery
on all orders
Pick up orders
from local bookshops
Reviews
Showing 1 - 3 of 3 reviews.
Review by andyray
16/06/2015
First Steinbeck that I've read in a long, long time, and a good one to start with as he takes on the persona of a "regular guy" caught between his family, his business, and his dissatisfactions.
Review by siew
16/06/2015
I was barely midway into the first two pages, when I became immersed in Steinbeck's use of dialogue. Ethan Allen Hawley, the protagonist, and his wife Mary, stood out in vivid relief almost from the onset. You become invested in characters that are more than just one-dimensional representations, and no less with Ethan, whose much-admired honesty and business ethics have for so long assured his near-penury, but also garnered the goodwill, friendship and respect of every other person in his town. His witty tongue, bordering on the sardonic, is his weapon of defense, and also at times shields his deepest thoughts from the reader, even during the points of the novel where he takes up the narrative directly. His family life and fortunes are in a dilemma, as fate throws opportunity and temptation his way. I found reading about how he deals with it all most fascinating, and I was emotionally invested in his success or failure.What was also very striking from the first chapter on, is Steinbeck's ability to read the soul. I felt he could have been writing about my life, and I was Ethan Hawley, and whatever choices he made, impacted directly on my own loss or redemption. It is a very rare specimen of writer that could accomplish such a cross-generation, cross-cultural and cross-gender shift in spiritual comprehension.Further, even though the themes are ages old - of right and wrong, loyalty and betrayal - Steinbeck's writing gives such ideas a fresh perspective, and greater meaning at the mundane level. I believe Steinbeck consummated his mastery of such a style with this book, the last he'd written prior to achieving the Nobel Prize.For all its excellences, however, I do have to note that the jump between third person narration, and the first person of Ethan, and the digression from Ethan to the dangerously voluptuous Margie Young-Hunt, is a bit disjointed at times. I do not see the necessity of the switch in styles and narratives; I'm a firm believer in using and manipulating the format to further the plot, however in this case, not much furtherment (my own word) was reached as a result.Harsh words aside, I see this book as a crowning achievement for an exceptional writer.
Review by edwinbcn
16/06/2015
The winter of our discontent is the novel which won John Steinbeck the Nobel Prize for Literature. It was also his last novel.Many readers consider The winter of our discontent a flawed or weak novel, particularly part one, seems to contribute little to the story. It is the author's provenance to express clearly in words what is difficult for others to describe. An adage remembered by many authors is that showing is better than telling. So, within the space of just under 300 pages, The winter of our discontent is a short novel, John Steinbeck shows us how a man starts doubting himself.What are morals? Are they simply words? (p.186) Ethan Allen Hawley asks himself. Aren't people thinking anymore? Thinking about their actions, their motives, and whether what they do is moral or immoral, honourable or dishonourable. Ethan concludes that it all depends on whether they succeed or not. What a man thinks does not show in his face, and as long as they succeed, they can get away with anything. To most of the world success is never bad. (...) Strength and success—they are above morality, above criticism.(p.187).At the beginning of the book,the Hawley family is a happy family. Chapter One starts with one of the lightest, happiest dialogues in literature. Ethan is content with his station is life. But his family members are not. Harking to a more glorious past, when Ethan's ancestors were rich, they want to improve their situation, and have a share in the riches of the world. All around Ethan, people are busying themselves making money or fame, in ways which are morally objectionable to Ethan. But as he is constantly battered by others, suggesting how to do such things and get away with it, Ethan starts contemplating and making steps to get on in life. He considers taking kick-backs, he plans and prepares to rob a bank, he betrays his boss and gets entangled into a business deal, where obstruction rather than cooperation reaps him wealth.However, Ethan's new lifestyle shows in cracks. He is not as happy as before, and the lightness which characterized part one is gone. Doubt first arises, when his boss, Marullo, whom he has betrayed, bequeaths the grocery store to Ethan, honouring his boundless honesty, a thing Ethan would no longer believe of himself, the irony being that this all comes following his betrayal. However, what brings it all home to Ethan is his son's plagiarism in a National Essay Competition. His son receives favourable mention, and is chosen to appear on television, which is eventually cancelled as it is discovered, belatedly, that the essay is largely plagiarized.Published in 1961, The winter of our discontent describes a process that Steinbeck saw happening in American society; a transition from the ethos of hard-working and honest citizens in the 1940s-1950s, to the greed and money-driven erosion or morals of the 1960s and subsequent era. The fact that so many readers dislike or fail to understand this book, shows how far we have drifted.