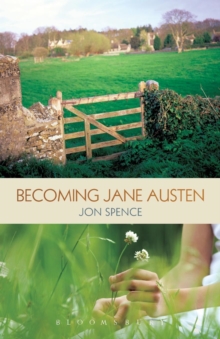 Becoming Jane Austen
Paperback
Description
Jon Spence's fascinating biography paints an intimate portrait of Jane Austen. "Becoming Jane Austen" gives the fullest account we have of her falling in love with the charming young Irishman Tom Lefroy, a relationship that was more serious and enduring than previously believed and one that had a profound effect upon her life and her art.
The elegant narrative examines Austen's other emotional attachments, building a picture of her world as she herself perceived and experienced it.
It is a world familiar to us from her novels, but in "Becoming Jane Austen", Jane herself is the heroine.
Information
Format: Paperback
Pages: 312 pages, 22 black and white
Publisher: Bloomsbury Publishing PLC
Publication Date: 05/03/2007
Category: Biography: general
ISBN: 9781847250469
Free Home Delivery
on all orders
Pick up orders
from local bookshops
Reviews
Showing 1 - 3 of 3 reviews.
Review by asnackate
16/06/2015
The film Becoming Jane is only loosely based on this book. I saw the film, and whilst I enjoyed it as a story in itself, I was doubtful about how accurate a representation it gave of Austen's life. So I decided to read the biography it was based on. I'm not an expert, so I can't judge the accuracy of the book, but Spence includes a lot of information taken from diaries, letters, etc. to create what I found to be an interesting and convincing account of Austen's life. Mostly I enjoyed the quotations from and descriptions of her letters and early works.
Review by sarahjanesandra
16/06/2015
This was a really fascinating read, but dragged in a few places. I would highly recommend to any Austen fan.
Review by MickyFine
16/06/2015
I've been a fan of Jane Austen's writing since I was 13 years old but I didn't pick up a biography on her until a couple years ago and I finally got around to reading it. Although I've known the basic biographical outline of Austen's life for a long time, it was interesting to get a far more in-depth treatment.This is the biography that was used as the basis for the film Becoming Jane (and while I know and understood why others had issues with it, I love it) so Tom Lefroy is given a bit more consideration than I would imagine he garnered in other Austen biographies. However, I felt the biography was well-balanced and gave equal space to each phase of Jane Austen's life. I also found the Austen family history included in the book interesting although the continued reusage of the same names in each generation did make it difficult to keep everyone straight at times.Because Jane Austen did not keep a diary and only some of her letters survive, Spence does make some speculations about her life, emotions, and thoughts that some people may find contentious. I took no issue with his arguments but I can understand why others could and my viewpoint may change when I eventually get to reading Jane Austen's letters. His discussion of themes in her various novels and how they were influenced by her life experience were interesting and the only point where I found it wearing was in his discussion of the fragment Sanditon, which seemed too long. My only complaint is that Spence ended the biography with Austen's death and did not cover the posthumous publication of her last two novels nor give any explanation about the lives of the rest of her siblings which I felt would have been a slightly more satisfying conclusion.An interesting biography and one I would be tempted to compare with other Jane Austen biographies to see how Spence's interpretations differ with those of previous biographers.
Also by Jon Spence