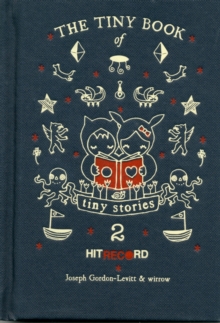 The Tiny Book of Tiny Stories: Volume 2
Hardback
Description
The universe isn't made of atoms; it's made of tiny stories.
Praised by fans and critics alike, "The Tiny Book of Tiny Stories" has been one of the most beloved projects to come out of actor Joseph Gordon-Levitt's online creative coalition hit Record.
With Volume 2, the journey continues with a fresh selection of stories small in scope but outsize in impact.
To create "The Tiny Book of Tiny Stories" - half short story collection, half communal poem (Flavorwire) - Joseph Gordon-Levitt, known within the hitRECord.org community as Regular JOE, directs thousands of collaborators to tell tiny stories through words and art.
With the help of the entire creative collective, Joe culls, edits, and curates the massive numbers of contributions into a finely tuned collection that is at once ingeniously illustrated ...witty [and] meaningful ("Entertainment Weekly"). "The Tiny Book of Tiny Stories, Volume 2" once again brings together art and voices from around the world to unite and tell stories that defy size.
Information
Format: Hardback
Pages: 128 pages
Publisher: HarperCollins Publishers Inc
Publication Date: 13/11/2012
ISBN: 9780062121639
Free Home Delivery
on all orders
Pick up orders
from local bookshops
Reviews
Showing 1 - 5 of 10 reviews.
Previous | Next
Review by yourotherleft
16/06/2015
I'll admit, I didn't like this one quite as much as the first volume of Tiny Stories, but it's still got plenty to recommend it. The stories are, at most, a sentence long but can make you contemplate for much longer. Some I related to, some I laughed at, others just confused me. The illustrations that accompany each story are whimsical, bizarre, clever, most well-suited to the story they represent. It's a book that can easily be read in a sitting, but one that you might find yourself wanting to spend more time on. I think, perhaps, that I didn't love this one quite as much as the first because I didn't find so many stories that I felt spoke directly to me, but I'd still recommend grabbing both volumes. Chances are you'll find at least a little of yourself in each.
Review by gaby317
16/06/2015
just wanted to give a shout out for The Tiny Book of Tiny Stories 2. I was fortunate to read and review the first volume when it came out and am glad to report that this next book is just as enchanting. The Tiny Book is a collection of illustrations and small statements, so that you find a tiny poem/story for every 2 pages. The book is a collaboration of different artists - "HitRecord" curates submissions from the public to come up with a careful selection that combines humor, hope and just a little darkness. It's the sort of book that I would have loved as a teenager and still enjoy now, many many years later. The book's cover says: "The universe is not made of atoms; it's made of tiny stories."There are stories of love (some sad and some happy), I prefer the sad ones and sort of wonder which ones appeal to other readers. There are some that are humorous, that make you take a look at the world around you or poke fun at language. For instance, one of my other favorites refers to loopholes. The book itself is tiny, easy to carry with you. It's beautifully done with nice thick paper. It's a good book to keep and/or to give to someone with a love of language and a sense of humor. I recommend it highly!ISBN-10: 0062121634 - Hardcover $14.99Publisher: It Books (November 13, 2012), 128 pages.Review copy courtesy of the publisher.
Review by aelizabethj
16/06/2015
Love love love. <br/><br/>Thicker than the previous two, still absolutely darling. <br/>Incredible how much of an impact a sentence or two can have. <br/>Right now I'm obsessed with : "The wolf cried 'boy!" but no one listened."
Review by PamZaragoza
16/06/2015
"As my story came to a<br/>close I realized that I was<br/>the villain all along."
Review by BooksOn23rd
27/01/2016