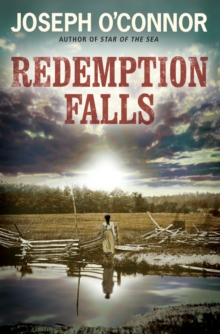 Redemption Falls
Hardback
Description
1865. The American Civil War is ending. Eighteen years after the famine ship Star of the Sea docked at New York, the daughter of two of her passengers sets out from Baton Rouge, Louisiana, on a walk across a devastated America.
Eliza Duane Mooney is searching for a young boy she has not seen in four years, one of the hundred thousand children drawn into the war.
His fate has been mysterious and will prove extraordinary.
It's a walk that will have consequences for many seemingly unconnected survivors: a love-struck cartographer, a haunted Latina poetess, rebel guerrilla Cole McLaurenson, runaway slave Elizabeth Longstreet and the mercurial revolutionary James O'Keeffe, who commanded a brigade of Irish immigrants in the Union Army and is now Governor of a western wilderness where nothing is as it seems. "Redemption Falls" is a tale of war and forgiveness, of strangers in a strange land, of love put to the ultimate test.
Packed with music, balladry, poetry and storytelling, this is a riveting historical novel of urgent contemporary resonance, from the author of the internationally best-selling "Star of the Sea".
Information
Format: Hardback
Pages: 464 pages, illustrations
Publisher: Vintage Publishing
Publication Date: 03/05/2007
ISBN: 9780436205699
Free Home Delivery
on all orders
Pick up orders
from local bookshops
Reviews
Showing 1 - 1 of 1 reviews.
Review by izzysbks
16/06/2015
Redemption Falls was recommended by Library Thing because I read Cold Mountain. I was in the need of a read so I gave it a shot but my wife returned it to the library before I could read it. Luckily, it hadn't been checked out when I was finally ready to pick it up. At first I didn't know what to think I usually read non-fiction so I had to ease back into fiction. This was a strong recommendation because at times I kept thinking that this book really reads like a crappier version of Cold Mountain.As I kept reading the presentation really drew me in the way the author had chapters of varying length and different writing styles like journal entries, songs, wanted posters, transcripts, and a nice wrap up in the epilogue. In spots it reads like a cheesy romance novel, and I had to work through those parts because its not normally my style, but I'm glad I made it through. The O'Keeffe character had strong appeal to me and really helped me get through some slow spots. I also love this era and this novel does a good job of painting that 19th century picture. The dynamic of reconstruction in the south was also a great draw for me. The Irish general O'Keeffe Governor of a resentful southern town,Redemption Falls, was a great source of conflict all the way to O'Keeffe's death. O'Keeffe's relationship with a wild southern child veteran of the Civil War really appealed to my guilty pleasure of the macabre.All in all this book was worth the cheesy romance and slow spots, but my issues with this book did indeed hurt its rating. Just because this book isn't my usual cup of tea its still a good book and I enjoyed it. It almost didn't happen but tried something new and I would like to thank Library Thing for helping make it happen.