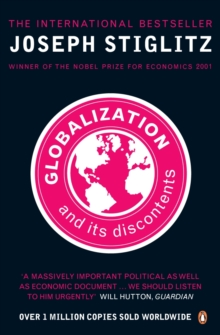 Globalization And Its Discontents
Paperback
Description
From Nobel laureate Joseph Stiglitz, Globalization and its Discontents is the bestselling expose of the all-powerful organizations that control our lives.
Our world is changing. Globalization is not working. It is hurting those it was meant to help. And now, the tide is turning...As chief economist at the world bank, Nobel Prize-winner Joseph Stiglitz had a unique insider's view into the management of globalization.
Now he speaks out against it: how the IMF and WTO preach fair trade yet impose crippling economic policies on deveopling nations; how free market 'shock therapy' made millions in East Asia and Russia worse off than they were before; and how the West has driven the global agenda to further its own financial interests.
Globalization can still be a force for good, Stiglitz argues.
But the balance of power has to change. Here he offers real, tough solutions for the future. 'A massively important political as well as economic document ...we should listen to him urgently' Will Hutton, Guardian 'Stiglitz is a rare breed, an heretical economist who has ruffled the self-satisfied global establishment that once fed him. Globalization and its Discontents declares war on the entire Washington financial and economic establishment' Ian Fraser, Sunday Herald 'Gripping ...this landmark book shows him to be a worthy successor to Keynes' Robin Blackburn, Independent Joseph Stiglitz is one of the world's best-known economists.
He was Chief Economist at the World Bank until January 2000.
Before that he was Chairman of President Clinton's Council of Economic Advisers.
He is currently Professor of Finance and Economics at Columbia University.
He won the Nobel Prize for Economics in 2001 and is the author of the bestselling Making Globalization Work, The Price of Inequality and The Roaring Nineties, all published by Penguin.
Information
Format: Paperback
Pages: 320 pages
Publisher: Penguin Books Ltd
Publication Date: 03/04/2003
Category: Globalization
ISBN: 9780141010380
Other Formats
Paperback / softback from £19.99
EPUB from £5.49
Free Home Delivery
on all orders
Pick up orders
from local bookshops
Reviews
Showing 1 - 3 of 3 reviews.
Review by vixen666
16/06/2015
This book is important. Every member of all western governments should be required to summarise its arguments before they can take office.
Review by cwhouston
16/06/2015
Unlike much of the 'anti-capitalist hysteria' surrounding the issue of globalisation, this book has been written by someone who DOES know what he is talking about and as a result, is not anti-capitalist. Perhaps surprisingly, his economic insight is also matched with an easy to follow and highly readable style.The author levels much constructive criticism at the IMF and WTO for the way in which they have treated the developing world over the last ten years but never suggests that globalisation per se is a bad idea. What I particularly appreciated was the effort taken by Stiglitz to present clear and reasoned argument to back up his points of view. I would have liked to see a little more detail on the history of the foundation of the IMF,WTO and World Bank but this is only a very minor gripe.When I borrowed this book from my wife, I had expected, largely due to the title and cover art, that it would be just another incoherent and inflammatory bag of anti-everything nonsense. Fortunately, this is not at all the case. Excellent.
Review by the.ken.petersen
27/08/2015
I have long wanted to understand how the World Bank and the IMF work. This book gives an excellent description from an ex-Chief Economist at the World Bank. Joseph Stiglitz cannot be dismissed as some wild left-wing trouble maker and, although he has been accused of using the book as a settling scores, there is not to be found in the text. The book gives an over-view of the system and is written in a style that is readily comprehensible by someone with little or no understanding of fiscal matters (ME!)After a potted history of these entities, the book concentrates upon interventions which were made during the period that the author was involved. It clearly shows that the financial assistance given to the smaller countries by the IMF came with strings which hampered, rather than assisted their path to Capitalist heaven. Mr Stiglitz still believes in Globalisation and, when the evidence against the banking system becomes incontrovertible, he suggests methods to correct these structures. This, to me, is the weakest part of the book: he seems to believe that, at government level, there is a real desire to bring countries into the bosom of healthy capitalism and he appears unwilling to consider that, whilst throwing crumbs to struggling economies, a pool of desperate labour, willing to work for a pittance, and often in unsafe conditions, is pure gold to today's TNC's, who have government in a strangle hold.