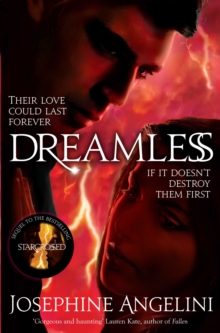 Starcrossed: Dreamless
Paperback
Description
Tasked with descending to the underworld and killing the Furies, Helen must endure hellish torture whenever she goes to sleep - she wanders around the various levels of hell with no idea how to complete her task, and she's beginning to suffer from extreme exhaustion.
Although she still trains with the Delos clan, Helen and Lucas are coming to terms with the fact that they cannot be together.
Lucas believes that the only way Helen will complete her quest is if he leaves her alone completely, so he tells her he doesn't want to see her again and that he never loved her.
Distraught, Helen carries on with her mission, and for the first time meets another person down in the shadowy underworld: Orion, descended from Adonis and with the power to control desire, he is the heir to the house of Rome and an outcast.
He's also kind of hot. Confused by her conflicting emotions but glad to have an ally in hell, Helen begins to realize the enormity of her task ...THE SECOND BOOK IN THE BESTSELLING STARCROSSED TRILOGY
Information
Format: Paperback
Pages: 512 pages
Publisher: Pan Macmillan
Publication Date: 05/07/2012
ISBN: 9780330529747
Free Home Delivery
on all orders
Pick up orders
from local bookshops
Reviews
Showing 1 - 1 of 1 reviews.
Review by TylerRosexD
16/06/2015
I adored Starcrossed and I was seriously excited when I came home from my boyfriends and found Dreamless waiting for me. My love for Angelini's writing is immense because it's easy to follow and understand. I had my worries about Dreamless purely because Starcrossed was so good, I didn't know if anything that followed would be AS good. But Dreamless surpassed my expectations and I absolutely loved it. There was, once again, the right amount of romance, action and adventure all combined to make a truly amazing read.We join Helen and Lucas as they continue to struggle with the news that they're cousins and the fact that they have to stay away together, which is obviously a huge struggle for these starcrossed lovers... who aren't allowed to be lovers. But, there has to be a love triangle at some point, and Orion was a great addition to this little gang. Orion helps Helen on her quest as a descender because she just can't do it alone. She finds she's getting no where, and she isn't helping anyone. Although I said it's a love triangle, it isn't one of your typical really annoying love triangles - mostly because we know that Helen and Lucas just cannot be together because they're cousins. Helen just finds it insanely difficult to forget the feelings she had for this boy.The story takes place in the real world and the underworld, but it's never confusing. You always understand where the story is happening, and to be honest it's written beautifully. Josephine has an amazing way of causing her audience to become addicted to her book. I only stopped reading because I had visitors and then my boyfriend came over for 5 days. Otherwise I'd have sat and read Dreamless as much as I could. The twist at the end has set Goddess up to be amazing. I can't wait to get my hands on it, it's a huge shame it doesn't have an expected release date yet, but one thing is for certain: I'll wait as long as I need to to get my hands on that book.