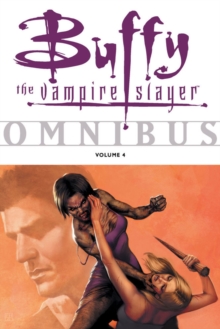 Buffy Omnibus Volume 4
Paperback
Information
Format: Paperback
Pages: 408 pages, 1
Publisher: Dark Horse Comics,U.S.
Publication Date: 30/04/2008
Category: Horror & ghost stories
ISBN: 9781593079680
Free Home Delivery
on all orders
Pick up orders
from local bookshops
Reviews
Showing 1 - 5 of 5 reviews.
Review by rampaginglibrarian
16/06/2015
this would probably be great if you don't have the comic collection (comic collections) but otherwise it just duplicates what you have, (it promises one new story but didn't delever. I do love the buffy comics though, as i do all things Buffy (i am a Buffanatic) and others might not buy into my obsession. If you're not obsessed but are interested this would be a good intro.
Review by shannonkearns
16/06/2015
artwork was good, but not my favorite set of stories.
Review by savageknight
16/06/2015
Reading this Omnibus was a lot more interesting in the sense that having a large number of stories around one specific villain allowed us more time to hang out with the gang and see how they go up against a returning villain not destined to become a friend :)The writers were beginning to explore all the characters beyond was was known about them (at the time, season 3) which kept them fresh while tying them in closer to the series.
Review by EmScape
16/06/2015
Omnibus 4 contains one long story arc followed by a bunch of shorts. In the longer story, the vampire Selke gets a plastic surgeon to develop a super-blood to improve the strength of her vampire minions. Her vanity and wit reminded me of Glory. The artwork and dialogue here are very well done. The shorts are more hit and miss, with various artists and their takes on the Buffyverse, but the stories are all pretty enjoyable. There is one flashback tale regarding Angel's vampire birth that's pretty contradictory to canon, and another called "mall rats" that was very cartoony but thankfully brief. The best of the shorts, though, also involves some flashbacks when an old friend of Angelus returns along with an old enemy, something called the Hollower which feeds on the demons inside vampires. That was a truly marvelous tale.
Review by catfantastic
16/06/2015
The fourth Dark Horse <i>Buffy the Vampire Slayer</i> omnibus starts off with the nine-issue <i>Bad Blood</i> by Andi Watson. The vampire Selke (from the <i>Cold Turkey</i> story collected in the previous omnibus) returns with a vengeance. Disfigured from her previous fight with the Slayer, Selke teams up with a cosmetic surgeon and develops a new, super blood that she uses to create a horde of ultra-strong vampires. Then, the doctor creates an evil Buffy clone and sends her after the Slayer. This is a much better effort then anything from the third volume, and Cliff Richard's art in the second half is really nice. I especially liked the Buffy vs. evil!Buffy scenes. It's neat to see side characters from the show, like the witch Amy, make an appearance. Overall, not mind blowing, but an entertaining read.Next is a collection of short stories. Most of these didn't work for me, as they felt rushed and had inconsistent art. I did like <i>Who Made Who?</i> by Christopher Golden, a short Spike and Dru story that succeeds in being as creepy and twisted as the characters. After the shorts we have an Angel-centric story <i>The Howler</i> by Christopher Golden with art by Hector Gomez. A vampire from Angel's past, Catherine, appears in Sunnydale seeking Angel's help fighting a tentacled elder demon that preys on vampires. The story offers glimpses into Angel's vampiric past with Catherine, Spike and Dru in nineteenth century Vienna. Gomez's art was a real detriment for me, as I personally can't stand his style. Oh well.The collection ends with <i>Graduation Day</i> by Doug Petrie with art by Jason Minor. This is a short story set just after the Season Three finale, with Buffy and Angel separate and both still hurting from the split. A soul-sucking demon goes after each of them in their depressed state. There's a neat psychic-link/hallucination scene where they meet in a rose-filled graveyard and its a fairly decent tie-in to the end of Season Three.