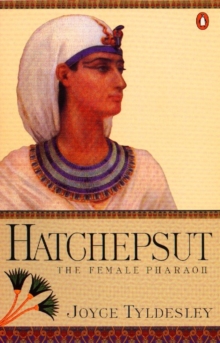 Description
Queen - or, as she would prefer to be remembered King - Hatchepsut was an astonishing woman.
Brilliantly defying tradition she became the female embodiment of a male role, dressing in men's clothes and even wearing a false beard.
Forgotten until Egptologists deciphered hieroglyphics in the 1820's, she has since been subject to intense speculation about her actions and motivations.
Combining archaeological and historical evidence from a wide range of sources, Joyce Tyldesley's dazzling piece of detection strips away the myths and misconceptions and finally restores the female pharaoh to her rightful place.
Information
Format: Paperback
Pages: 304 pages
Publisher: Penguin Books Ltd
Publication Date: 29/01/1998
ISBN: 9780140244649
Free Home Delivery
on all orders
Pick up orders
from local bookshops
Reviews
Showing 1 - 2 of 2 reviews.
Review by gcamp
16/06/2015
Although I learned much about the female King, Hatchepsut, I often found this book to be a little to slow at times. Therefore, it was difficult to maintain my interest in it. Hatchepsut was the daughter of King Tuthmosis I, the sister and wife of Tuthmosis II, and the stepmother and mother-in-law of Tuthmosis III. Because her stepson was young when Tuthmosis II died, she acted as regent for her stepson. She took on the role of King and tried to validate her position by linking herself to the gods. She even went so far as to wear a false beard to make herself resemble a man. She seems to have done a fair job of maintaining her position for some time, but eventually her stepson took over the role of King. For unknown reasons, someone tried to erase the memory of her role of King by defacing most of the statues and writing in which she appeared. Joyce Tyldesley pointed out that there were some other women who held the reigns of power in Egypt, but Hatchepsut seems to be the only one of which someone tried to erase her history. Whether that was her stepson or not, seems to be unclear.
Review by KarenIrelandPhillips
16/06/2015
The author's excellent work on the daily life of ancient Egyptian women piqued my interest in her biography of this queen (more usually spelled Hatshepsut) who ruled as a King. I was not disappointed - though it has the hallmarks of a scholarly work, and the narrative flags from time to time, it was overall a quite entertaining story about a woman who was omitted from the Kings List for reasons still unknown. Tyldesley thoroughly debunks the notion that Hatshepsut's younger brother, who ruled after her, wiped her name from her temples and public works in a jealous rage.