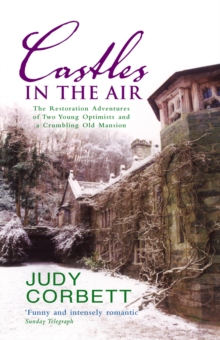 Castles In The Air : The Restoration Adventures of Two Young Optimists and a Crumbling Old Mansion
Paperback
Description
Castles in the Air is a beautifully written, autobiographical story of rescuing an ancient mansion.
Gwydir Castle was inhabited by ravers and rats until Judy Corbett and her husband Peter Welford found and acquired this 500-year-old house mouldering in the foothills of Snowdonia.
Despite the toads, strange smells and squatters, they decided to mortgage themselves to the hilt to bring the castle back to life.
This is an evocatively written and genuinely moving book and is infused with an extraordinary sense of place.
The couple's adventures in a gothic wonderland lead them through plots both supernatural and historical.
In a museum storeroom in a Bronx warehouse they find a missing room, in the castle's Solar Tower the ghost of a young woman appears and from the far edges of the woods a silent man called Sven emerges to befriend the couple and their beloved castle.
For everyone who has ever wanted to live in a glorious house or escape from the mundanity of life - Castles in the Air is pure magic.
Information
Format: Paperback
Pages: 320 pages
Publisher: Ebury Publishing
Publication Date: 01/01/2005
Category: Autobiography: general
ISBN: 9780091897314
Free Home Delivery
on all orders
Pick up orders
from local bookshops
Reviews
Showing 1 - 4 of 4 reviews.
Review by Morena
16/06/2015
One of my favorite books---my new life's goal is to move into an old castle. :)
Review by cathyskye
16/06/2015
First Line: I have just had to dry the sheets with a hair drier again before getting back into bed.Judy Corbett and her husband-to-be Peter Welford wanted very much to find an old ruin of a house to restore so they could move out of the rat race of city life. They found their dream ruin tucked away in the foothills of the Snowdonian Mountains in Wales, but they had no real idea the challenges they were agreeing to take on when they signed all that paperwork.Gwydir Castle was Judy Corbett's favorite type of dwelling: as each successive generation of owners wanted to "smarten up" the place, they just slapped an addition in the current style on one end or the other instead of making the entire building look homogeneous. Parts of Gwydir dated back to the dissolution of the monasteries. When Judy and Peter found it, some of the rooms had been turned into a noisome sort of pub.As I read Judy's account of the restoration, I swore it must have never stopped raining the entire time: "When it's very dark in the castle and the batteries have run out in the torch [flashlight] and I can't find a dry match to light a candle, the symphony of drips guides me through the rooms. I have learnt to distinguish a coal scuttle from a paint pot and know exactly where I am by the tone of the drip."Book bloggers from around the world would not be able to fault Corbett on her criteria for her future home: 'The yardstick by which I measured the suitability of any potential house was whether I could imagine myself reading in it."Naturally the course of restoration did not run smooth, even with the help of workmen with interesting names like "the Scouse git" and the approval of a resident spirit or two. The sheer amount of work and discomfort that those two endured while restoring Gwydir Castle is jaw-dropping. Never in my wildest dreams would I ever undertake anything remotely resembling this gargantuan restoration project, but Corbett loved every minute of it, and her joy and feeling of accomplishment are plain as each small bit is completed.If you love reading about old houses being brought back to life by people who love what they're doing and have a true sense of adventure, you will love reading Castles in the Air. Corbett not only has a knack for restoration, she's a deft storyteller as well.
Review by SeriousGrace
10/11/2015
Castles in the Air may not have the most original book title (think Don McLean) but it is a delightful read. Judy and her then boyfriend, Peter bought the Gwydir Castle in Wales and what follows is their adventure to restore it to its former glory. At first the going is a bit rough ("chainsaw gardening" says it all) but with the help of a band of misfit artisans the couple is able to piece together some semblance of Gwydir's old glory...hauntings and peacocks included.
Review by mullgirl
16/06/2015
I liked it. Not loved, but for its genre, it was a pretty interesting read. And I have my librarians to thank for this because they had it randomly selected to be next to the checkout and the cover intrigued me.<br/><br/>Castles in the Air is a non-fiction story about a couple who eschew modern life, yearn for times gone past (uh, way way past), and are freakishly in the right place at the right time to buy a castle in Wales. What makes the story interesting from the get go is that these are not "privileged" people wanting to play at historical restoration and nostalgia. The story is about a couple with lots of education for careers that aren't particularly lucrative who ultimately seem like real people. That's not to say that there certainly isn't privilege involved: it's nice that mummy can front some of the cash payment and that they can qualify for the government to buy back a room of the castle. But overall, you can really put yourself in their shoes. And that's kind of fun, because hey, how cool is it to buy, renovate, and live in a castle.<br/><br/>Most of the chapters are in chronological order and detail the major happenings of their purchase and renovation. There is also a little time focused on how, no matter how lofty the ideals, most times, they have to be compromised a bit to achieve the larger goal: like their opening for tours and doing the B&amp;B circuit. There is a chapter dedicated to their ghost and a chapter dedicated to a rather non-nonfictional account of women from the tudorian period. I shouldn't say that it's "non-nonfictional." The author provided some rather interesting information on still rooms, something I had meant to further research for a while.<br/><br/>There is also an interesting account of how the castle was dismantled, literally room by room, in the 1920s–as in two entire rooms from the ceiling beams to the wall paneling to the flooring were sold at auction… one room to the newspaper magnate Hearst… a la Citizen Kane.<br/><br/>It's kind of nice to get to the end and understand (ok, you know it from the first chapter, but you don't really care then) and see that they have tons of work ahead of them. See, real people never have the money to just hire out for someone to fix and improve everything in their house at once.