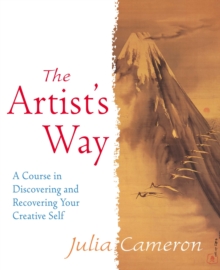 The Artist's Way : A Course in Discovering and Recovering Your Creative Self
Paperback
Description
The Artist's Way provides a twelve-week course that guides you through the process of recovering your creative self.
It aims to dispel the 'I'm not talented enough' conditioning that holds many people back and helps you to unleash your own inner artist.
Its step-by-step approach enables you to transform your life, overcome any artistic blocks you may suffer from, including limiting beliefs, fear, sabotage, jealousy and guilt, and replace them with self confidence and productivity.
It helps demystify the creative process by making it a part of your daily life.
Whatever your artistic leanings, this book will give you the tools you need to enable you to fulfil your dreams.
Information
Format: Paperback
Pages: 240 pages
Publisher: Pan Macmillan
Publication Date: 06/06/1997
Category: Theory of art
ISBN: 9780330343589
Free Home Delivery
on all orders
Pick up orders
from local bookshops
Reviews
Showing 1 - 4 of 4 reviews.
Review by wyvernfriend
16/06/2015
An interesting book that I may have to re-read and follow at some stage. It asks you to examine why you don't do creative things and argues that creativity is part of life.Inspirational and interesting
Review by ablueidol
16/06/2015
Sadly don't make use of this and other like this. I seem to undermine my creativity. I use many of the skills and insights in work as this is cutting edge policy and practice linked to change management. Yet when it comes to writing and story telling I am always too "busy" to give it priority. I do attend a storytelling circle and my stories are usually well received and I have the opportunity to do this as a professional and know what to do to make this happen but don't. I know what to do to start writing but don't. I know one root is that I don't want to fail even though I am a risk taker and know the failure of failing. Other reasons perhaps don't want to be faced. Yet I am surrounded by friends that are musicians, painters, writers who all say that I am the "one" person who they can share and explore the ideas and feelings about their art so they are clearer of the next step. Physician heal thyself?
Review by wordygirl39
16/06/2015
I like this book, though sometimes it gets a bit new-agey. A little over-wrought with Baby Boomer wisdom. But, she got me writing and I am working at it every day.
Review by PacificBlue
16/06/2015
The Artist's Way has a sometimes cult following, with many creatives attempting (but often not finishing, by the sounds of it) the twelve week programme to re-energise our creative beings. I attempted this in January 2008 with a small group of keen digital scrapbookers on an online community. By Week 6 only 3 remained, and I was one of them. I found the author's style quite dry, and particularly hard to get into at first, but there was a lot to think about, and something that triggered most people into some kind of interpretation. I continue to use the Morning Pages concept most days (unless I'm writing fully that day) and some of the other exercises were very interesting.