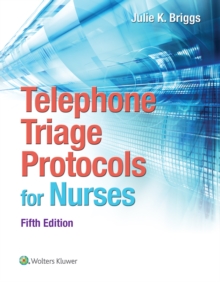 Telephone Triage Protocols for Nurses
Paperback
Description
Telephone Triage Protocols for Nurses, fifth Edition Performing telephone triage requires the ability to make quick and effective decisions based on limited information.
Telephone Triage Protocols for Nurses, 5th Edition is your rapid-access resource, delivering more than 200 triage protocols for evaluating patients' symptoms over the telephone.
Each symptom entry lists questions, grouped by urgency level, to determine whether the patient should seek emergency care immediately, seek medical care the same day, call back for appointment, or follow home care instructions.
Detailed home care instructions are provided. Simple, direct, and useful, this is the most comprehensive and user-friendly telephone triage book available.
Evaluate patients quickly and accurately, with this indispensable guide ...*NEW: Protocols for altered mental status; rectal bleeding; and shingles * NEW: Content on phone triage program development and quality improvement * Flow chart format leads you from yes or no answers about symptoms to development of assessment, and specific care recommendations * Quick-read format helps you provide fast and effective evaluations, even with limited patient information * Easy-to-follow A to Z organization-by body system and by disease-helps you find topics quickly * Detailed home care instructions help you advise callers fully * Questions about symptoms are grouped by urgency level to aid you in making quick, accurate assessments * Icons indicate maternity and pediatric considerations * Helps you avoid pitfalls such as accepting patients' inaccurate self-diagnosis or not assessing patients fully * Best practice recommendations guide instructors on telephone triage safety; roles and responsibilities; training guidelines; and medical- legal safeguards * Essential for all clinical nurses and practitioners charged with performing triage
Free Home Delivery
on all orders
Pick up orders
from local bookshops