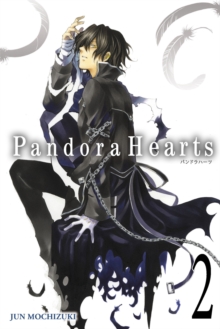 Pandora Hearts : v. 2
Paperback
Description
Having found his way back from Abyss, Oz, together with Alice and Raven, go to investigate the mansion where Oz's coming-of-age ceremony was held.
What they find there will surprise you! Heir to an aristocratic family, Oz Vessalius is a carefree teen.
That is until his fifteenth birthday. His entire world changes at his coming of age ceremony when dark forces rise to punish Oz for the sins of a past life. Incarcerated in a prison known as the Abyss, Oz's life and perhaps his sanity are saved by a black rabbit called Alice.
As Oz plunges deeper down the proverbial rabbit hole, he must unravel the mysteries surrounding him before falling into the clutches of the shadowy cabal called Pandora
Information
Format: Paperback
Pages: 192 pages, Integrated: 180, b/w drawings
Publisher: Little, Brown & Company
Publication Date: 18/05/2010
Category: Manga
ISBN: 9780316076081
Free Home Delivery
on all orders
Pick up orders
from local bookshops
Reviews
Showing 1 - 2 of 2 reviews.
Review by madmarch
16/06/2015
Excellent- even better than the previous volume, and with even more references to the "Alice" books. You also get to see more of characters such as Zwei, Raven, the Intention of the Abyss, and best of all, the enigmatic Xerxes Break.
Review by catfantastic
16/06/2015
[SPOILERS]In the second volume of <i>Pandora Hearts</i>, Oz learns that ten years have passed while he was trapped in the Abyss, and his little friend Gilbert is now the gunslinging, Gothic, Raven. They also learn about the <i>incuse</i>, a clock-like mark branded onto a person's skin, if they have a contract with a chain. The incuse counts down the time until they are pulled back into the Abyss. Everyone with a contract is marked with an incuse, including Oz. The story grows as more details about the world of <i>Pandora Hearts</i> become clear, and the bond of friendship between Oz, Gilbert/Raven, and even Alice, deepens. The art style is very smooth and clean with cute character designs. An easy manga to read &amp; enjoy.